In Sizzle by Katherine Garbera Staci is a baker and a part owner of a cup-cake bakery. What she really wants though is to put her skills as a chef to use again, to prove to herself she still has what it takes, that her talent hasn't been wasted. She does not want to be forever known as the cup cake girl! She let love come between her and her kitchen skills once before and she's determined to never let that happen again.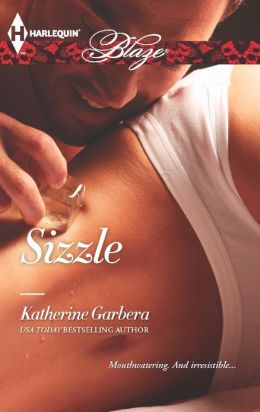 Remy hails from New Orleans and comes from a family of famous, highly skilled chefs. Remy is insecure in his abilities as a chef, and when he is asked to run one of the family restaurants, he panics and runs. Despite his skill, he is unsure if he really has what it takes to be a chef of that calibre, or if he's being credited based on his family name alone. He feels there's one way to find out!
Staci and Remy both end up on a cooking reality show "Premier Chef", both of them determined to take home the top prize. For Remy it's more about the affirmations of his ability as a chef in his own right than the actual prize. For Staci, it's a chance of a lifetime to prove herself and win the half a million dollars along with her own television cooking show. They are both expecting to cook well in the kitchen, what they don't expect is the heat they create with each other. "There was something almost elusive about the woman. Something that he just couldn't shake no matter how many times he tried."
From the moment Staci almost knocks Remy over, they both feel a growing attraction to one another. Stacie has been burned once before and the hurt is still there, making trusting any other man a big problem for her. With her family history, she doesn't feel she'll ever be able to have a man stay around. Remy has his secrets, and they are big ones. Between the stress of the competition, their growing feelings for each other, and the secrets being kept, they both feel the stress. Can they live up to their own expectations and out perform all the other contestants, and one of them come out a winner? Can they get past all the secrecy and mistrust, follow their hearts and see if they can have a future together?
I am not a reality TV show watcher, but Sizzle was a great, sexy, sizzling romance! There is a lot of sensual heat outside of the kitchen! I really liked Staci. She was strong, despite her misgivings about relationships, willing to try to move on, and even though she kept some of her history more closed off, for the most part she was an honest woman.
"She had to keep control of herself. Until he proved to her that he wouldn't love her and leave her."
Remy has a lot of secrets that are bound to catch up with him sooner rather than later…and it might be too late for him. I think Remy for all his sexuality and outward toughness is quite insecure inside. So part of me can understand his secrecy, and another part of me wants to shake him! The characters themselves are relatable and believable.
Katherine gives us a book that is about so much more than a television reality show. Yes, that's the basis for the book, but we go inside it to watch the relationship between Staci and Remy evolve. The title of this book is perfect!
I would recommend this to anyone who wants a sizzling romance whether or not you watch reality television!
Book Info
Publication Date: February 19, 2013 | Series: Harlequin Blaze (Book 741)
A recipe for desire…or disaster! Preparation: Only the best chefs are selected to compete in the hit reality TV show Premier Chef. First, add one bakery owner— Staci Rowland, who's out to prove that even the sweetest chef can wield a wickedly sharp knife. Then counter that sweetness with Remy Cruzel, a spicy and smokin'-hot Cajun chef, who's looking to prove he's more than his name….Cooking instructions: Place each chef in direct competition with each other—and in the same house. Let the initial attraction simmer, and quickly turn into a steamy fling.Caution: These key ingredients to a successful show—and a red-hot rendezvous!—are hiding a few secrets from each other, and from our judges. And the end result is one dish you won't want to miss!