In Smart Tass (OHellNo #1) by Mimi Jean Pamfiloff, Years of torment. That's what comes to mind when Tass Summerset thinks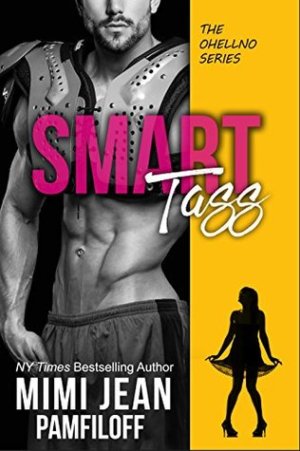 about her next door neighbor Hunter Johnson. Since preschool they've had a love/hate relationship. As in, she loves to hate him and vice versa. It probably doesn't help that they're total opposites–Tass is a studious science major, Hunt is the handsome star quarterback–but she was hoping that college would finally separate them so they could go on their merry way, hundreds if not thousands of miles apart.
I cross my arms over my chest. "Eyes up here, big guy."
"Nope. I'm liking the view down there." He continues staring at my chest. "Hey. I can't help if I like looking at you." He lowers his voice. "I just wish you were wearing those big sexy glasses. I kinda have a thing for them."
But, nope. Tass is horrified to find out that she and Hunter are going to the same university. And unfortunately the animosity continues. This time, not only is it the same old geek vs. jock issues, but he's impeding on her getting accepted into a sorority that could make or break her career. And keeping up with her family of overachievers is everything to Tass. But as she contemplates a way to show Hunt that brains will win every time, she realizes that she might have been unknowingly putting herself on a pedestal over the years. And it's a shame that Tass hadn't kept her eyes open to exactly what was truly going on around her.
'This is the first time in my life that I've ever felt so welcomed. Ever. And it kind of makes me want to cry. Here I'd hated them for judging me, only to discover I was the hater, assuming all sorts of things.'
New Adult romances don't get much more fun or sincere than Smart Tass, the first book in Mimi Jean Pamfiloff's new OHellNo series. And, boy, what an entertaining ride this was, with plenty of laughs, but with a few important lessons to learn as well along the way.
'Brains beat brawn every time.'
Told from our snarky, dry-witted heroine Tass's POV, this was a book that had me literally laughing out loud. More than once. Which is something I've come to expect from Mimi Jean Pamfiloff's romantic comedies. But, Smart Tass was more than just a sassy science nerd verbally knocking down the hottie quarterback. This frenemies to lovers slash opposites attract tale was all about Tass coming to terms with the hand she had in her tumultuous relationship with her next door neighbor Hunter. And with how complicated things were between them, going all the way back to preschool.
What a hoot Tass and Hunter were together. There was animosity and hysterical bantering, of course, but it was the subtle sparks flying between them that I loved seeing. It was pretty obvious to everyone but Tass that there was something going on between her and Hunter. And it took her learning not to judge others by their outer appearances for her to see what was right in front of her all along. There were mistakes made on both their parts, but what college age guy or gal doesn't mess up? Overall though, it was Hunter's quiet belief in them that really made me fall for him and hope he and Tass would find their way through their messy past to begin a promising future together..
If you like a story with witty but modern dialogue, lots of comedic college hijinks including a Scrabble-based drinking game (right?!), and a special friendship that survived over a decade of Tass & Hunter tormenting each other, then I think you'll wholeheartedly enjoy Smart Tass.

Book Info:

Publication: Published April 11th 2017 | Mimi Boutique | OHellNo #1
From New York Times Bestseller, Mimi Jean Pamfiloff, comes SMART TASS, a new Romantic Comedy.
He's the hot quarterback all the girls want.
She's the smart girl he loves to pick on.
And now that they're all grown up, things are about to get geekin' ugly. . .
My name is Tass. I'm smart, I'm driven, and I am determined not to let prankster Hunter Johnson continue raining on my parade. When we were little he'd pull my hair and call me names. When were teenagers, he'd throw food at me and tease me for being a flat chested virgin.
But now that we've ended up at the same college, things are about to change. Because I'm not that geeky little girl anymore, and Mr. Amazefootball is due for a little lesson. One about how women with brains shouldn't be messed with. I'm going to crush his heart.
So what's my plan? He's about to find out…