Snowbound At The Manor by Ellie Darkins: Jess had promised to meet her friend, Lara, at a lovely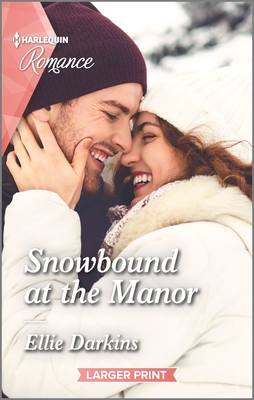 manor home in Yorkshire. Lara is a big social media influencer and has been requested to help play up the many wonderful ways the luxury of the home could be perfect for many special events. The owners need a new revenue stream to keep things afloat.
Lara's plane gets stuck in Geneva when a blizzard hits in Yorkshire and other places. Lara figures she is stuck alone in the big house and may not even be able to get to her parent's for the holidays. They count on her being there, even though it has been extremely sad ever since her sister died.
Just about the time Jess looks for ways to spend her time, he finds a man who is nearly frozen at the front door. As she thaws and nurses him, she realizes he is Rufus, the owner of the manor. Now they are both snowbound. Lara gets in touch and makes suggestions on how they can "save the day" with photos around and in the house. While the power flickers and it is freezing outside, sparks fly and things heat up between Jess and Rufus.
The author gives us enough background for both Jess and Rufus to realize how the past impacts the present. It is rather nice to have the two main characters to concentrate on and not a lot of secondary characters. That way the reader can really get inside their heads.
There is lots of tension, but the love scenes take place off the page. I am fine with almost any sort of romance. It is refreshing when things are spicy, yet subtle.
Ellie Darkins has written a lovely Christmas story that can be enjoyed any time of the year. You just need to find a cozy place to read and turn the pages.

Book Info:

Publication: November 10, 2020 | Harlequin Romance |
An unexpected Christmas
With a handsome stranger!
The words merry and Christmas don't go together for Jess. Not since the tragic death of her sister. So, her trip to a luxury stately home is for business, not pleasure. Only Jess hadn't counted on spending Christmas snowbound with enigmatic Rufus, elusive owner of both the manor and the most delicious smile she's ever seen… To top it off, it's more difficult to ignore the sparks between them with each passing day!
From Harlequin Romance: Be swept away by glamorous and heartfelt love stories.