Snowed In With The Reluctant Tycoon by Nina Singh: Trust is a difficult thing to come by, especially when you have to learn to trust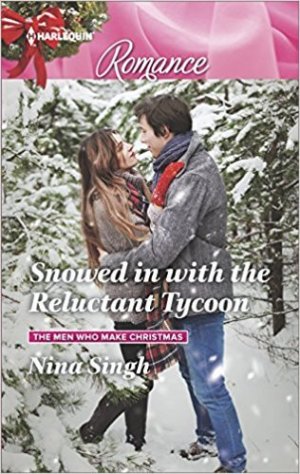 yourself first.
Carli Tynan wasn't really ready to be in her hometown. It's not that she didn't love her family and her friends, but small towns have a way of forgetting things and really letting you move forward. So she had made peace, but she wasn't quite ready to have it revisited by everyone and their mother just yet. However to save her childhood refuge and a memory she has to.
Justin Hammond didn't have time for memory lane. It's not like anything good lived down that way anyway. It was just another waste and another reason to feel bad about himself. However he was going to try and down as his "father" asked and make it work, somehow.
Trapped in a small town, where one wants to save a store and the other wants to trash it, you have to wonder if there can be any in between. Don't underestimate the power of a snowstorm, family and a four-year-old boy… when those forces unite anything and everything is possible.
Ms. Singh has given her readers an interesting read. Full disclosure though, the story doesn't quite fit the title. The story itself is smooth and uplifting. The characters are warming and real while having just enough of the upper half to make the reader remember that they aren't real and are fantasy. There is a pretty deep description and the story flows well with the first part of the series. This is a nice HEA with a holiday appeal.

Book Info:

Publication: Expected publication: December 1st 2017 | Harlequin Romance | The Men Who Make Christmas, Book 2
The spirit of Christmas…
His family's business may thrive on Christmas, but Justin Hammond holds bad memories of the festive season. So being drafted in to make some tough financial decisions should be easy – until he meets executive Carli Tynan!
Determined to save her favorite Hammond's store, Carli vows to remind Justin of the holiday's magic – starting with a kiss in the snow! Can she show the reluctant tycoon just how special Christmas can be?