Some Like It Sinful (A Perfect Recipe #2) by Robbie Terman is a terrific novel. I read the first book in the series and this one is equally as scrumptious.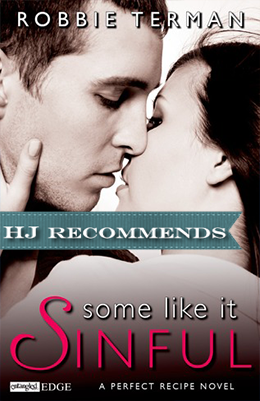 Curvy pastry chef Chloe Nelson is finally realizing her dream, running her very own bakery. Her confections are sinfully satisfying and due to word of mouth, will undoubtedly sell themselves in the very near future. Once the bakery begins to turn a profit, she plans on looking for her prince charming and sharing her goodies with him.
Thirty-five year old professional hockey player Griffin Lange is in some deep legal trouble. Instead of jail-time, an involved trial or more unwanted negative publicity, he reluctantly agrees to 300 hours of community service. It just so happens that the ADA is Chloe's older sister Sylvia, and she knows that Griffen's presence in her sister's bakery will bring in tons of business. Thus, the captain of the Chicago Razors is now a part-time cashier at Happy Endings Bakery. Only 300 hours to go!
At first, Chloe and Griffen are like oil and water. In addition, unexpected publicity forces Griffen into the spotlight and puts his humility and privacy at risk. Thus, Chloe agrees to be his temporary girlfriend, as Griffen fulfills his community service requirement in her bakery. Overtime, their platonic relationship evolves into a sizzling heat, which they cannot control. Their passion is real, hot and sensual.
This novel combines two of my favorite things, romance and sweet treats. It is well written and the combination of narrative, steam and angst is wonderfully executed. The plot builds and advances effortlessly, with lots of interesting revelations. The characters are well defined and I formed an immediate connection with both Chloe and Griffen, in addition to the secondary characters. I read it from cover to cover in less than a day because the plot was just so engaging. I truly enjoyed this novel and I recommend it highly!
Book Info:

HJ Recommends
Publication: November 25th 2013 by Entangled: Edge | Series: A Perfect Recipe #2
Their attraction is sinfully delicious…
A struggling business and one act of vandalism may have brought them together, but bakery owner Chloe Nelson and professional hockey player Griffin Lange get along like chocolate and pickles. Chloe needs the famous (and famously unattached) Griffin to attract people to her pastries, and Griffin needs the curvaceous and fiery Chloe to keep him out of trouble. A fake relationship to keep the media interested seems like the perfect plan.
But when temptation throws them into bed together, a new plan arises. Why not make the fake real? Griffin's winning every home game, and Chloe's business has never been better. Both know it's only physical—and only temporary. But can they drop their defenses for love, even if it means getting a little bit sinful?