In Ripped by Sarah Morgan, When Hayley agreed to be a bridesmaid at her ex-boyfriend Charlie's wedding, she didn't know she would be wearing the ugliest (and most uncomfortable) bridesmaid dress known to man. Or that she would then explode out of the top half of the dress before the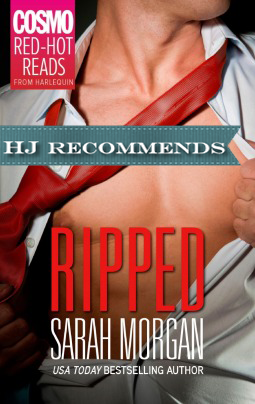 ceremony is complete.
'Outrage started to simmer inside me. I was the victim of a cruel fashion crime, blameless in everything except my proportions and I wasn't about to apologize for my breasts.'
Groomsman Niccolo Rossi saves the day by rushing Hayley away from staring eyes. She and Nico have never been close and it seems like all she ever does is make him question her choices. But instead of disappointment, Hayley sees passion in Nico's eyes as he leans in to kiss her. It turns out that the cool, unaffected lawyer she thought he was may be just a front to cover up the desire he harbors for Hayley.
'Nico Rossi wasn't a good boy. He was a bad boy dressed in a good suit.'
Nico reappears on Christmas, intent on giving Hayley a special present to remember. But when they finally come up for air a few days later, Hayley is freaked out that her resolution to have "emotionless sex" may have gone by the wayside. She doesn't want to get attached and have to go through a horrible breakup if/when they part ways. She's been through that before and swore she'd never go through it again. But is this situation with Nico different, or is she just inventing ways to hang on to the best sex she's ever had?
'The chemistry was off the scale. I didn't understand it, and I was good with all the sciences. I could explain nuclear fission but I couldn't explain this.'
So. Good.
Ripped is a cleverly written, comical-but-sexy new romance by Sarah Morgan. Everything I've read so far of Sarah's has just blown me away with witty dialogue and absolutely solid character development. This is told as a narrative from Hayley's pov, and I think the style works incredibly well with this plotline. There's also a wonderful cadence to her writing that moves the story along at a nice pace.
Hayley was a pretty easy character for me to relate to and I loved her dry, self-deprecating humor. She's an extremely smart woman, an engineer, with very bad luck when it comes to relationships. She's tired of having to downplay her career and wants to be liked for who she is. And Nico…whew, he's something else. A hunky Italian lawyer to run to Hayley's rescue. We should all be so lucky, huh? But I can certainly understand Hayley's confusion with Nico's actions as she never had a chance to really get to know him before and understand his true personality.
I could just envision poor Hayley at the wedding, about to literally pop out of her dress, and feel not only her concern for her wardrobe issue, but her anger/frustration that her ex-boyfriend was marrying one of her friends. I have to say, that scene was one of the funniest I've read in a while and had me in tears from laughing so much. Especially her description of the dress from hell: the condom dress, she calls it, as it was more like a tube instead of being fitted…well you get the idea. It is so, so funny!!
If you're a contemporary romance fan who loves a steamy story that also has great laughs, I suggest Ripped. It's a perfect quick read this Holiday season.
Book Info:

 HJ Recommends
Publication: Cosmo Red Hot Reads from Harlequin (November 26, 2013)
"Wardrobe malfunction" doesn't begin to cover it.
With a rip louder than the "I dos," Hayley's hideous bile-yellow bridesmaid dress explodes. She's always had enviable curves, but nearly naked wasn't quite the look she'd been going for at her ex's wedding.
She's rushed from the altar under the best man's designer tux jacket. Hayley's expecting a blast of icy disapproval from sexy, sophisticated Niccolò Rossi—his usual reaction to anything she does. What she gets is a kiss that nearly melts what's left of her polyester nightmare gown.
It's impossible on a million levels. Exuberant engineer Hayley and buttoned-up lawyer Nico have never seen eye to eye—but skin to skin? Oh, mio… So when Nico shows up at her flat on Christmas Day to give her a fabulous gift—himself—Hayley's delighted to do the unwrapping. But it's just a holiday fling. By New Year's Day, she'll come back to her senses…unless Nico's sensual skills tear away all her resolve.