In Some Like it Wild by M. Leighton, Laney has always been the good girl, the girl who doesn't take risks, the Preacher's daughter. She thought she had all she wanted but it all came crashing down with unexpected betrayal. Managing to secure a work assignment in her home town, Laney heads home to regroup and home to her parents house. Laney ends up working on cataloging the estate to Jake's father. Jake, the same bad boy whose kiss she's never forgotten.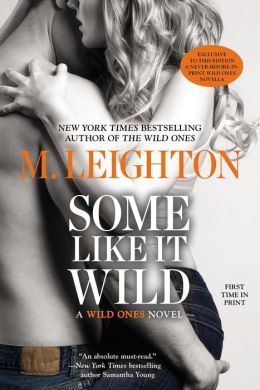 Jake is the bad boy in town, he and his sister don't have the sterling reputation Laney has. He's not a relationship type of guy, doesn't believe in love, and definitely does not believe in happily ever afters. He's only back in town to deal with his father's estate, then will be off on his next adventure.
Immediately there is an attraction between Jake and Laney. Laney is determined to resist him, and Jake is determined to entice Laney to the "dark side". Jake is everything Laney shouldn't want, but he might be everything she wants anyway. Jake slowly chips away at Laney and her walls. He teases her, but he also lets her get to know her adventurous and fun side, the unexpected side she hides. Laney feels good with when she's with Jake, and she sees more in him than even he sees in himself. When Laney's parents try to control her and what she does, no matter that she is a young adult now, she admirably stands up for herself. She also takes a closer look at herself and what she might be missing out on…including Jake. It is meant to be a fun time for them both, a short lived relationship, a passing "thing". Together they discover each other and who they really are. Will what they have now be enough? Will they both be able to move on with no regrets? Or might this new relationship be worth the risk of going for more for both of them?
M. Leighton gives us a sweet, young adult romance in Some Like it Wild. Jake and Laney are both struggling in their own ways, and this is part of what brings them together. There is a lot of chemistry between them, but the attraction is definitely more than sexual and M. Leighton writes the evolution of their relationship well, without a lot of drama, angst or issues. Jake and Laney are young characters, finding their place in life, and in this case opposites really do attract!
The way M. Leighton writes Some Like it Wild, alternating the POV's between Jake and Laney was really a great touch and one I really enjoyed. It's always nice to feel like you're really getting in the character's heads. Some Like it Wild is a clearly written, quick, easy read that stays in the present for the most part. I was a bit curious about Laney and her parent's relationship and felt this could have been explored a bit more.
I would recommend Some Like it Wild to romance readers who enjoy Young Adult/New Adult books. If this is your genre, you will really enjoy Some Like it Wild.
Included in this book is the novella Wild Child, which is Jenna's story (Jake's sister).
Book Info:

Published March 4th 2014 by Berkley
First was The Wild Ones. Now, the next book in M. Leighton's Wild Ones series…
How far will a good girl go for the bad boy she loves?
Laney Holt is a preacher's daughter. A good girl. Her only goal was to get married, have babies, and live happily ever after, just like her parents. Only that didn't happen. The two people closest to her betrayed her, and Laney's dreams came crashing down. Now she's left with an empty space she doesn't know how to fill. Until she meets Jake Theopolis, a daredevil with a death wish who has heartbreaker written all over him.
Jake has no interest in thinking beyond the here and now. All he wants out of life is the next rush, the next "feel-good" thing to keep his mind off the pain of his past. His latest rush? Showing Laney there's more to life than being a good girl—and that going bad can be so much fun. Her only concern now is how she can ever hope to satisfy the wild side of a boy like Jake. She's looking forward to trying. And so is Jake.
If you love The Wild Ones, you'll be just as wild for M. Leighton's Bad Boys series which includes Down to You, Up to Me, and Everything for Us.(less)