I've never been the biggest fan of circuses. I've been twice, and both times my expectations weren't met. However, after reading Sparks Fly with the Billionaire by Marion Lennox, I kinda want to go again.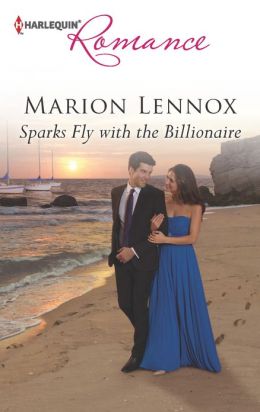 Allie has slowly taken over responsibility for the "Sparkles" circus. Her grandparents raised her there, and she knows no other life. The circus is her home and family, and even though she has a degree in accountancy, she knows the circus is where she belongs.
Until Mathew Bond arrives that is. His maiden Aunt Margot took him to the circus many times when he was a boy, but after he lost his immediate family, his grandfather took him in and taught him how to be the heir to Bonds, one of the most prestigious banks in Australia. Mathew and Allie couldn't be more different. She goes by her nickname, and he left 'Matt' behind with his old life. Finance is her fallback, and high-stakes banking is his entire life.
He finds out that Margot is determined to die after the loss of her dog. After all, 80 years is a long time to live, and she's ready to go. He travels to the small town in which she lives and prepares to call in a debt that Sparkles has owed for many years. It'll kill two birds with one stone – almost literally.
When Mathew forecloses on the circus, Allie finds out just how deeply in debt they are. Her grandparents have been keeping a secret from her, and even though it was one of the nicest things they could have done for her, it was tearing apart her life. It was ultimately her fault the circus would be shut down, and she had to do something about it.
What she didn't know was that Margot knows how to scheme. Allie brings back 'Matt' and through many ups and downs, they fall in love with each other. Is love enough when both worlds start to fall apart?
The characters, especially Allie and Margot, were amazingly likeable. Matt was a slow-starter, but he got to me more as the book went along. Aside from make-out sessions, the book is quite chaste. I really liked the story and it was a quick read.
Book Info
Publisher: Harlequin Romance;  (April 1, 2013)
The brooding banker and the Amazing Miss Mischka!
Banker Mathew Bond is more used to boardroom antics than circus ones. The king of emotional detachment wouldn't normally foreclose on a loan in person, but Sparkles Circus meant a lot to him once….
Big mistake! Because feisty Allie (aka the Amazing Mischka) has more acumen than her pink-spangled bodysuit suggests. She won't allow a man in a suit to evict her family, no matter how gorgeous he is!
Yet underneath the cold exterior, Allie's about to discover this brooding billionaire's heart of gold.…