In Special Angel by Nancy Loyan, Angelique is no ordinary diva or singer for that matter.She's the world's greatest singer—and mystery. Nobody knows anything about Angelique's background, she is so mysterious, beautiful and has such a gifted voice that she is known as an angel, and some even believe that she may be an angel.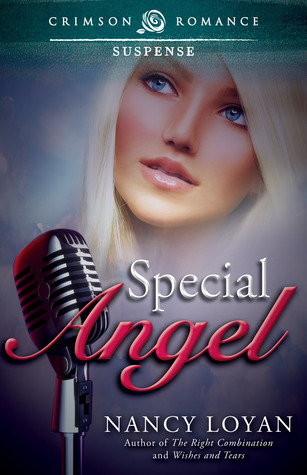 Brian Andrews is an American investigative reporter at Our World magazine. He is known for always getting to the bottom of things and finding the truth, which is why he is assigned to do what many other have failed to do. He has to find out and uncover Angelique's secrets and all about her past.
The only problem is that she is so guarded that nobody can get near her. There has never been any interviews or paparazzi photo of her, something that is unheard of for anyone in the media. So Andrew makes it his mission to track down any information he can about her past and discover what secrets she is hiding.
Only Angelique is not hiding secrets, she doesn't know anything, not even her past. She doesn't know who her parents were, all she knows is that since she was born she was at an abbey raised by nuns in France. And when she was a young girl and sang in a church full of people for the first time, a couple showed up at the abbey and decided to adopt her.
But things are not always as they seem for this couple has her trapped and drugged. She has known no freedom in her entire life and she has to sing in order to provide them with money. And every time that she has tried to escape she has been drugged to the point that she cannot do anything but sing.
Now that Andrew is out to find out the truth, he is her only hope of freedom. But first she must find a way to get in touch with him without her guardians, since they never adopted her, or the bodyguards they hired to keep her trapped finding out her intentions.
Andrew and Angelique have a tough journey ahead of them, but his wisdom and knowledge may just get them to freedom, while her innocence will teach him to love life again and maybe just as well love her.
For a sweet, heartwarming and suspenseful read, don't miss Special Angel by Nancy Loyan.
Book Info:

December 2nd 2013 by Crimson Romance
Angelique is no ordinary diva. She's the world's greatest singer—and mystery. That's why Brian Andrews, an American investigative reporter at Our World magazine, is assigned to do what others have failed: uncover Angelique's past and secrets.
But Angelique herself has never known her past and fears that she will never see her future, thanks to a controlling couple who hold her career and life in their tight fists. Raised by nuns in an abbey in France, she has never known freedom. Brian offers her hope by aiding in her escape from her sequestered life, putting his career on the line.
Is he after the glory of the big story, or is he the one person Angelique can finally trust to help her?