Spying on the Boss by Janet Lee Nye immediately kept my attention with its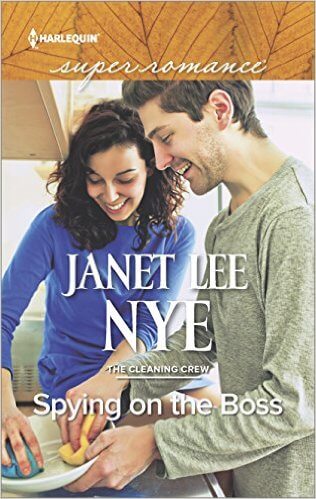 unique characters. First we have Sadie. Sadie owns a cleaning company but this isn't any normal kind of cleaning company, the twist is, that it only employs hot men to come clean the client's house or business. Hot men cleaning…where do I sign up?
Sadie has competition though. Another cleaning company wants to knock her down and put her out of business. This is where our hero comes into play. The competition hires Wyatt to go in undercover and work for Sadie. He's a little bit older than her other employees but she hires him anyway. The attraction between the two is immediate, but Sadie has rules she follows about dating employees and tries really hard to keep them.
Wyatt's job is to find out if Sadie is doing anything illegal. The guy who hired him believes she's running a male prostitution ring and wants Wyatt to uncover any dirt on her. But the more time he spends with Sadie, the more he wants her…if only he wasn't lying to her.
"He was falling in love with her and he had to walk away and hope she never learned the truth about him."
I loved Sadie as a heroine. She's full of love and cares about everyone. She didn't have the best childhood and has some hang-ups from her mom signing away her parental rights, but she turned out to be a wonderful person. She takes pride in her job and her employees and is everything you could want in a boss. The only problem with Sadie is that she thinks she's incapable of love.
Wyatt…I liked Wyatt as a hero, but I didn't love him. There was a point in the story where he gave up on Sadie because she was a mess, which made me want to kick him in the head at that point. Eventually, he comes to his senses but I wish Sadie wouldn't have forgiven him that quickly.
Overall, Spying On The Boss is an enjoyable read with lots of entertaining moments, sweet gestures, and pleasant characters.
Book Info:

Publication: January 1st, 2016 | Harlequin SuperRomance |
The new guy's turning her into a hot mess!
A difficult childhood left Sadie Martin more interested in work than anything else, including romance. But she'd be a fool not to notice that her newest employee is scorching hot. As long as he works for her, though, he's off-limits. Her company — sexy guys who clean houses — comes first. So why are Wyatt Anderson and his adorable niece always on her mind? When attraction turns into more, suddenly everything is a lot more complicated…and, frankly, a huge mess. What Sadie and Wyatt need is a clean slate. For understanding…and love.