In The Widow by Fiona Barton, do you ever have doubts about your husband? Would you ever believe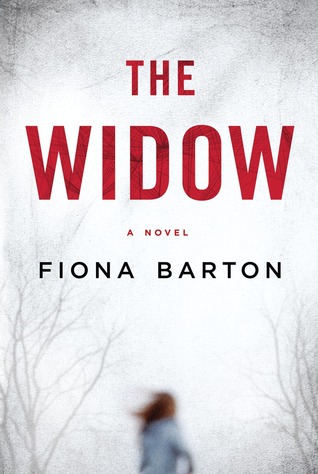 he could be capable, of the crime the police suspect him of committing? Jean 'Jeanie' Taylor stood by her husband when the police came knocking, believing him to be the primary suspect, of the crime they were investigating. Yet now, years later with the death of her husband, she should feel free as a bird – able to spread her wings, and finally be in control of her future. Except, she feels anything but. Not when there are reporters constantly banging on her door, determined to be the one to secure the rights to her story. However, there's a reporter that won't take no for an answer. So, what's Jean to do, but give answers to what life was really like with her husband.
It feels like I'm talking to a friend. It isn't how I thought it would be, talking to a reporter. I thought it would be like being questioned by the police. Thought it would be an ordeal, an interrogation. That's what my husband, Glen, said. But it isn't, somehow.
Being as much a fan of the mystery/thriller genre as I am of romance, and having read The Girl on the Train by Paula Hawkins – one of the books this story is being compared to, in terms of whether readers may enjoy it – my interest was immediately piqued. And I've got to say with a plot that bounces back and forth between the years 2006 (the year the crime occurred) and 2010 (when the primary suspect dies), while being narrated by various characters whose lives have been affected by the crime in which Jeanie's husband was suspected of committing, Ms. Barton has delivered a fast-paced, compulsive, electrifying thriller. That from the very beginning grabbed my undivided attention and did not let go until the next thing I knew I was on the last page (at one in the morning).
I did like the characters, although the reporter covering the case; and the victim's mother annoyed me at times. Kate is tenacious in pursuit of the truth. Certainly, she has the gift of the gab when it comes to being a reporter, easily talking her way into any situation such as with Jeanie or the police. Also, she's not against ignoring orders to help those that need it, and betraying those that expect her to write an honest story just to give the victim's family some sort of closure. Indeed, I though it seemed a little unethical, especially when it just enables the resentment the victim's mother has for Jean.
"What have you written?" I demanded. "What have you said to make me the evil monster? I trusted you. I told you everything."
As for the victim's mother, I know this sounds harsh, because I wouldn't wish what happened on any parent, but I think she deserved what happened to make her appreciate what she had lost. Quite frankly, I thought she was an irresponsible mother. Yes, she blames herself for what happened. But she's also not against placing blame on Jeanie after the death of her husband. How could Jeanie not know if her husband was the monster the police claimed him to be?
While Jeanie and Detective Chief Inspector (DCI) Bob Sparkes I was intrigued by. Jeanie really grows throughout the story. In the past, she seems just another victim of her husband, Glen. He used her love for him to keep her on side, enabling them to carry on as if nothing had happened, and yet, there are constant reminders that make sure she can't forget. Such as the ongoing police investigation, and the people that turned against her. I really felt for her. Life with her husband wouldn't have been easy, especially as she feels responsible for their problems due to her wanting something so bad that she couldn't have. Yet, in the present, it's as if a huge weight has been lifted off her shoulders and she can finally tell her story. Finally be the one in control, instead of being controlled, since there are still secrets she's determined to keep closely guarded.
DCI Sparkes was a rather interesting character. He's relentless. Never giving up hope that he'd solve the case, even when things go 'pear-shaped' with the investigation. It really takes a toll on him, but still he doesn't give up until he has the answers. Answers he knows only Jeanie can give him.
In the end, Ms. Barton has launched a brilliant start to her career with this attention-grabbing debut novel, which offers plenty of twists and turns that will have readers flipping the pages to discover just what secrets exist between a husband and wife. The ending between Jeanie and DCI Sparkes wrapped the story up nicely, as they both finally get answers that bring them peace.
Fans of Gone Girl by Gillian Flynn, or The Girl on the Train by Paula Hawkins should definitely give The Widow by Fiona Barton a chance. However, I would also recommend it, if you're looking to expand your reading horizons into the mystery/thriller genre.
Book Info:

Publication: February 16th, 2016 | NAL |
For fans of Gone Girl and The Girl on the Train, an electrifying thriller that will take you into the dark spaces that exist between a husband and a wife.
When the police started asking questions, Jean Taylor turned into a different woman. One who enabled her and her husband to carry on, when more bad things began to happen…
But that woman's husband died last week. And Jean doesn't have to be her anymore.
There's a lot Jean hasn't said over the years about the crime her husband was suspected of committing. She was too busy being the perfect wife, standing by her man while living with the accusing glares and the anonymous harassment.
Now there's no reason to stay quiet. There are people who want to hear her story. They want to know what it was like living with that man. She can tell them that there were secrets. There always are in a marriage.
The truth—that's all anyone wants. But the one lesson Jean has learned in the last few years is that she can make people believe anything…