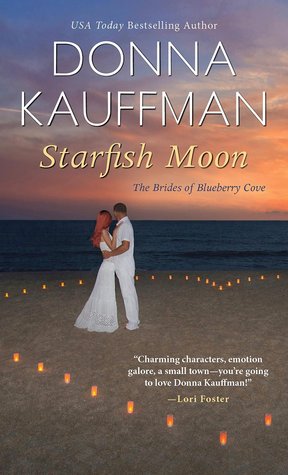 In Starfish Moon by Donna Kauffman, perpetual wanderer Kerry McCrae finds herself back in Blueberry Cove, running her Uncle Fergus's bar while he recovers from a stroke and helping one of her sisters plan her upcoming wedding. It's been almost a year since she's returned home, but her heart and mind are still in Australia and with her boss at the cattle station, Cooper Jaxton.
Cooper knew of Kerry's inability to stay in one place, which was why he never pursued the relationship he wanted with her. The year she had spent on the cattle station was the longest she had stayed in one place, so he figured it meant something to her. Even with her now being gone for a year, he can't get her out of his mind. Encouraged by his family, Cooper leaves Australia and arrives in Maine, determined to convince Kerry that they could have something great together.
I liked Cooper and Kerry together. They had an open, honest relationship with one another. They confided their fears and worries in one another, and did their best to work together to address them. They also had a playful relationship, and there were plenty of light moments between the two.
This is the third book in the series. While it works as a standalone, characters from the previous books make appearances in this one. It was nice to catch up with the rest of the McCrae family and see what's been going on in their lives.
Donna Kauffman has crafted a light-hearted friends to lovers romance. If you enjoy that trope, this is worth reading.
Book Info:

April 26, 2016 | Zebra | The Brides of Blueberry Cove #3
Kerry McCrae's wanderlust has taken her to parts of the globe most people have only glimpsed in pictures. So why is tending bar at the family pub in Blueberry Cove after her Uncle Fergus's stroke an easier adjustment than she expected? And why hasn't she left once Fergus is back on his feet? When tall, tanned Cooper Jaxton walks through the door, she knows the answer in a heartbeat…
Born and raised deep in Australia's outback, Cooper never planned to leave the wild country he loves. But after almost a year of having Kerry—with her sparkling eyes and outrageous stories—on his cattle station, Cooper was stunned when she left. Suddenly home wasn't the same without her. Making his way to Blueberry Cove to find her is a risk, but Cooper is counting on the passionate connection between them to convince her that the only place either of them needs to be is together…