In Steele: Into Your Heart, Carolina Bad Boys #3 by Rie Warren, we get a in depth look into the Retribution MC.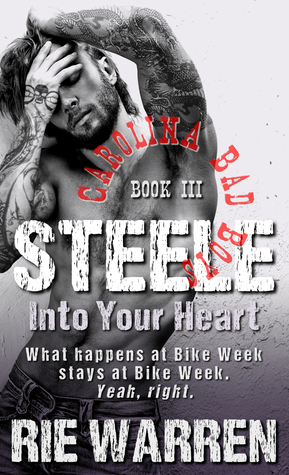 We get to visit the characters from the last 2 books, including some of the characters like Hunter and Cole from the new spin off series. With ever book, it is like coming home to the comfort of family and friends. This is Brodie and Ashe's story.
Brodie Steele, big, bad Biker, VP of Retribution MC, and co-owner of Chrome and Steele, along with his brother Boomer and sister Cat. Away from home for Bike Week, Brodie is looking for a good time, some tail, no commitments and no old lady. That all changes when the hot little number on the dance floor that catches his eye is none other than Mount Pleasant Police Office Ashe Kingston, the woman that arrested his sister years ago, the woman that he is suppose to despise and the one woman that he wants more than his next breath.
Ashe has had a thing for Brodie since way back in High School. Now that they are both here at Bike Week, Ashe comes up with the plan that what happens at Bike Week stays at Bike Week. Spending time with Brodie could be the best and worst thing that every happened to Ashe's orderly life, but he is worth the risk.
Back in reality, Brodie and Ashe dance around the attraction building around them. But when Ashe makes detective and her first assignment is to investigate the Retribution MC, she will have to watch her step. When things go south, it will take Brodie, Boomer, Cole, Hunter and the rest of the MC to get to Ashe before time runs out.
I love the humor, the angst, the thrill of the story. What is so wonderful about these stories is that they keep you hooked on every word. The characters start to feel like family and just kind of welcome you in. I love that we get to visit the favorites from the other books as well. Brodie and Cat were electric in this book. Both were hot, gave as good as they got and held nothing back. With Nick, Boomer, Josh, the garage guys, the "Hens", Ashe's daughter Cara, little JJ and the rest of the gang in tow, this book make me laugh, made me cry, and by the end I was cheering for these beloved characters. I look forward to Boomers book.
Book Info:

Publication: April 2nd 2015 | Rie Warren | Carolina Bad Boys #3
Brodie Steele is a badass MC dude. Ashe Kingston is a sexy police officer with an attitude. Their bad blood runs deep. But after they hook up at a wild biker week, can they keep their pact? What happens at Bike Week stays at Bike Week. Yeah, right.
Riding out the rough years following a family tragedy, Brodie is still trying to put his life back together when he finds something he never expected with Ashe. She annoys the ever lovin' hell out of him, and turns him on so much he can't see straight. He keeps coming back for more.
Ashe isn't just a hard-nosed police officer. And she wants no part of Brodie outside of their no-strings-attached fling. There's no way he's settling-down material but he's hard to resist with his inked sleeves and rebellious ways, not to mention piercings in places that make Ashe melt. Brodie Steele is dangerous, delicious, and suddenly determined to have her.
If there's anything more risky than laying his heart on the line for this sexy woman, it's Ashe's job. It puts her life in danger in a way he can't possibly protect her from. Can their hot bond win out over the bad blood of years past? Or will Ashe be taken from Brodie before she lets him into her heart?