Still by Kennedy Ryan: Bristol and Grip are committed and in love. They have already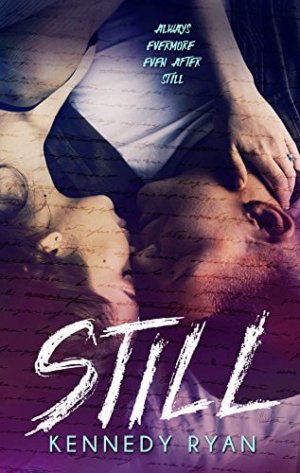 faced challenges and come out the other side, but that doesn't mean they have truly dealt with some of the issues they are facing. They got through his album release and tour, but now Grip wants to also work on his long term career goals while Bristol is concentrated on building his brand.
They are a couple that you want to root for and see them make it. They support and challenge each other. They are determined to have the difficult conversations about social issues, race, their differing perspectives and backgrounds, and their mutual desire to protect each other. Grip is definitely protective of Bristol, which can cause problems as their needs conflict.
"How many fights do you want to have at one time, baby?" he asks.
"That depends." I smile and nod to his shoulders. "Are you giving me a ride?"
"A…a ride?"
"Piggyback."
Their relationship continues to develop as they fight with and for each other. It's interesting to see Bristol interact with Grip's family and friends, as her privileged background didn't prepare for her his family from Compton. She is an endearing combination of being sweet, generous, feisty, independent, and insatiably curious, with a spine of steel, ambition, and unfailing devotion to family.
"Would you just do what I ask for once without all the-"
"I will kick you in the balls if you say without the sass." Bristol crosses her arms over her chest. "I'm not a fourteen-year-old girl and you are not my father. I don't need paternalism crap from you, Grip."
Still is heartbreaking, emotional, heartwarming, and oh so sexy. Kennedy Ryan introduces some wonderful new characters and provides new and ongoing challenges to really test this couple. Ms. Ryan paints a good portrayal of the realities this couple has to face. Still is meant to be read after Flow and Grip. Fans of Jamie McGuire and Jasinda Wilder will enjoy Still.
Book Info:

Publication: Published September 24th 2017 | Kennedy Ryan | Grip #2
I'll be there.
Through thick and thin.
Ride or die.
You can count on me.
The promises people make. The vows we take.
Assumptions of the heart.
Emotion tells us how we feel, but life…life has a way of plunging us in boiling water, burning away our illusions, testing our faith, trying our convictions.
Love floating is a butterfly, but love tested is an anchor.
For Grip and Bristol
Love started at the top of the world
On a Ferris wheel under the stars
But when that love is tested, will they fly or fall?