In Stone Cold Lover (Gargoyles #2) by Christine Warren, Just when Felicity "Fil" Shaltis thought she was doing something nice to help her friend Ella, she finds herself in the middle of a battle between Light and Evil. She doesn't realize that the statue she was tasked to find is the key to not only preserving the safety of the human race, but also the key to her heart. When an unknown stranger threatens to harm Fil, the gargoyle statue she keepss somehow being drawn to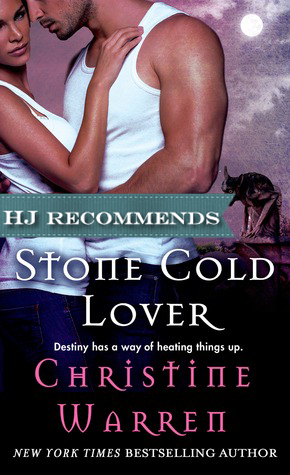 miraculously comes to life. She soon learns the statue is actually a Guardian who protects humans from nocturnis, or the brethren of the Dark. At first, Fil isn't sure if she's hallucinating or if Spar is telling the truth. Especially when he shifts into human form. She's afraid if she gives in to the major attraction between them, she'll never be the same once he must go back to his gargoyle form and sleep until the next threat upon humanity.
'Spar had touched more than her body, deeper than her heart. He had woven himself into the very fiber of her soul, and he would take a piece with him when he stepped back into his shell of stone.'
Spar has existed for millennia as one of the seven Guardians of the Light, battling Evil whenever called upon to do so. He has never even contemplated the fact that there may be a human mate out there for him. So when Fil is under attack as he awakens from his centuries long slumber, Spar commits himself to keeping her safe. It's his duty, after all. But he's having a tough time keeping his growing feelings for her, and his reaction to their chemistry, under wraps. With Fil getting into trouble at every turn, Spar has his work cut out for him. Hopefully he will be able to convince his gutsy and beautiful woman to spend the rest of their lives together. If he can keep her safe from the dark forces, that is.
'She wanted to reject the magnetic force that pulled them together, but he could have told her it was futile. Never in his life had he felt an energy as strong as the one that drew him to her.'
Stone Cold Lover is an imaginative and completely romantic paranormal tale in Christine Warren's Gargoyles series. Who knew a seven foot tall stone statue come to life could be so heart-stoppingly sexy?
I couldn't really wrap my head around how a gargoyle would make a good hero when I read the synopsis for this book. But I am fully sold on it now. Christine Warren has managed to turn a (creepy) fixture in gothic architecture into a complex and protective character, Spar, who fights against evil in its truest form. This story definitely was about good vs. evil, with some fairly detailed fight scenes describing the injuries, so it's not really for the faint of heart. However, the overall tone of the book, to me, was about the passion and connection Spar and Fil had together, as well as her sarcastic wit. Fil has some really great one-liner responses to Spar, keeping him on his toes. I especially chuckled every time she called him Rocky. Come on…he's a stone statue! *giggle*
There were a few times where Fil's independent streak not only got her in trouble, but made things way more difficult for Spar than was necessary. I know this may cause issues for some readers, but I honestly felt like it was a natural part of her personality. Her grandparents raised her to be self-reliant so it made sense that she would have trouble handing over the reins to someone. She may have had moments when she was impetuous, but I think her genuinely nice, kindhearted persona was who she truly was at heart. And that's what Spar loved about her. They were a fun, lovable couple who shared such an intense bond between them that their scenes together were something else to read. It was impossible for me to not get caught up in all the emotion they felt.
If you're a paranormal romance fan who is always looking for something a little bit different or unique to read, definitely try Stone Cold Lover. You can easily read this as a standalone or as part of the series.
Book Info:

Published August 26th 2014 by St. Martin's Paperbacks | (Gargoyles #2)
Gargoyles abound in this sexy paranormal novel from New York Times bestselling author Christine Warren.
A prominent art restorer, Felicity is more than game to help a friend track down an obscure statue in Montreal. But when "Fil" finds it, she's taken by surprise at how drawn she is to this statue. Attracted to it in a way a girl shouldn't lust for a stone gargoyle, she revists it at night, longing to feel its embrace. Little does Fil know, her desire for this stone cold beast is about to heat up a notch.
Locked in stone for centuries, Spar has slept, waiting for when a human would need him. When he is awoken, Spar is taken aback to find that a human female needs his help. A very sexy woman who's about to be the victim of a cultist attack. Saving and leaving her should be no problem. But as more questions arise, Spar knows that he cannot rest until Fil is safe in his arms