In Suddenly Royal (Suddenly #1) by Nichole Chase, Grad student Samantha Rousseau gets an unexpected invitation to have dinner with a Lilarian duchess visiting America. She arrives believing they are meeting about donations for the raptor program she works with, but she couldn't be more wrong. Duchess Rose informs Sam that she is descended from royalty and stands to inherit not only an entire estate, but she can also take her rightful title as duchess if she so chooses.
He smiled at me, but I could see a little guilt in his eyes. "Nothing is ever as good or as bad as you think it will be. Lilaria is just a place. It's what you make of it that counts."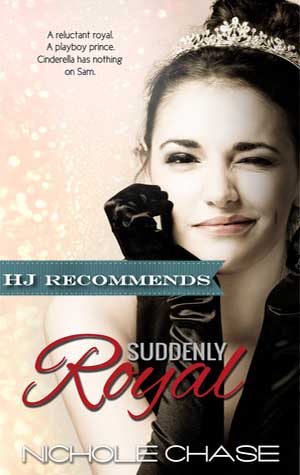 Also traveling with the duchess is Prince Alex D'Lynsal of Lilaria, or Prince Yummy as the media and Sam's BFF Jess dubs him. Alex offers to help Sam navigate the attention she receives becoming "America's Duchess". She can't help but be attracted to the prince but wonders what in the world he would ever want with someone like her. She lives in Minnesota, works as a wildlife biologist, and is completing her thesis for her master's degree. Their worlds couldn't be any more different. Yet they do have a lot in common, with his love and work with raptors in Lilaria, plus his devotion to his family. He understands how important her father and his health struggles are to her. So as Alex helps Sam with this new world she's been thrown into, she has to decide if she also has room in her heart and mind for a blossoming romance with the sexy former ladies man.
"If I win, you have to teach me Lilarian while keeping your hands to yourself." I picked up the dice and rolled. "Like a good friend."
"Where's the fun in that?" He kept his voice low. "I can think of some really fun ways to teach you my native tongue."
Suddenly Royal is a fun, quirky, emotional romance in a new series by Nichole Chase. Don't let the book cover fool you, this is an adult novel complete with life choices, love scenes, loss and discoveries.
When I researched this story, I saw a lot of chatter online about how this is similar to both The Prince & Me and The Princess Diaries. To a certain extent, I'd say that is true. But I thought this was an "adult" version with a lot more emotional depth than the previously mentioned stories ever had. I liked the flow of the writing and found it be at a perfect pace for the events that happened. It was told in a raw, honest manner, just like the protagonist Samantha herself.
Samantha wasn't afraid to speak her mind or stand up for her loved ones which I found commendable. She had a lot to deal with in a very short amount of time and did so with quite a bit of grace. I loved her interactions with her royal assistant Chadwick, who was a hoot to read about. He also becomes a friend to her, counseling her on decisions and in her personal matters. Alex's sister Catherine was an interesting young woman to get to know, and she will get her own story next in book two: Recklessly Royal.
Ahhhhh…Prince Yummy–I mean, Alex. I wasn't sure about him at first as he came across so much like an egotistical playboy. But as Sam got to know him, I liked him more and more. He really did have her best interest at heart and fell head first in love with her. They had a lot in common even given their different backgrounds. I liked how Alex flirted with Sam, to me it didn't seem sleazy; he was just a naughty guy and was trying to fluster Sam to get a reaction out of her. Admittedly, their romance was a slow burn, but it was worth it. And they get a truly wonderful HEA, so what's not to love?
Suddenly Royal was a novel that hit a lot of my bells and whistles with its humor and impassioned storyline. I hope other romance enthusiasts will enjoy it as well. I think author Nichole Chase said it best with this quote: "All things are possible with love."
Book Info:

Published 11/26/2013, Avon | (Suddenly #1)
Samantha Rousseau is used to getting her hands dirty. Working toward a master's degree in wildlife biology while helping take care of her sick father, she has no time for celebrity gossip, designer clothes, or lazy vacations. So when a duchess from the small country of Lilaria invites her to dinner, Samantha assumes it's to discuss a donation for the program. The truth will change the course of her life in ways she never dreamed.
Alex D'Lynsal is trying to keep his name clean. As crown prince of Lilaria, he's had his share of scandalous headlines, but the latest pictures have sent him packing to America and forced him to swear off women—especially women in the public eye. That is, until he meets Samantha Rousseau. She's stubborn, feisty, and incredibly sexy. Not to mention heiress to an estate in his country, which makes her everyone's front-page news.
While Sam tries to navigate the new world of politics and wealth, she will also have to dodge her growing feelings for Alex. Giving in to them means more than just falling in love; it would mean accepting the weight of an entire country on her shoulders.