Cooking Up A Seduction by Jenna Bayley-Burke is just the type of foodie book that I love to read. It has everything from great cooking, to hot bosses, funny partners and a sizzling love story that leaves you hungry for more.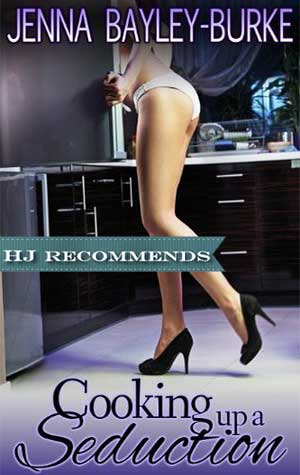 Cameron Price is a New Yorker through and through. When his boss and mentor wants him to move to Seattle to take over the Seattle Office, he can hardly tell him no. This is the chance that Cameron has been waiting for. To show the company that he has what it takes to move up and make a difference. He doesn't have time for romance or to get involved with anyone. His career comes first and he knows that anyone that he is involved with will never understand his long hours, dedication to work, and his ambitions. But what he didn't count on was Lauren Brody, or his mentors misunderstanding of the relationship that they have.
Lauren Brody has been working her butt off to put her business "Come For Dinner Catering" on the map. Running into the blue-eyed hottie that has been invading her dreams since she first laid eyes on him months before is a shock. But to make matters worst for Lauren, now Cameron's mentor thinks that they are a couple. Being forced to play the part could benefit them both, her with her catering business, him with his peers. But what happens when what starts as an act starts to feel like so much more.
Ok, what I loved about Cameron and Lauren is that they are so very much alike. They both feel that at the end of the day neither has enough to offer in way of a relationship. They are so focused on what they think they can't offer each other, that they don't realize that they are already all in. I loved Lauren's friends. They added a lot of humor to this story and some of the scenes were laugh out loud funny.
This is the first book that I have read by Jenna Bayley-Burke, but it will not be my last. If you are looking for a little sexy sizzle in your romance, I would highly recommend you grab Cooking Up A Seduction. You will not be disappointed. I loved this story and that is why I am giving it 5 sizzling stars.
Book Info:

Published February 7th 2014 by Blueberry Eyed Books
Sexy venture capitalist Cameron Price takes the helm of the Seattle branch of the firm to prove he has what it takes to lead the entire company. Unfortunately, his boss thinks what it takes for a workaholic like Cam is a wife!
To fend off the matrimonally inclined, Cameron has to think fast. Inspired by the dazzling green eyes of the gorgeous caterer, he proposes the kind of innovative arrangement he's known for. If Lauren Brody will spend a few weeks on his arm networking at events, she'll be able to raise the profile of Come For Dinner catering and book more clients than she ever dreamed.
But Lauren has a plan of her own and tempts Cameron to play along. She convinces Mr. Buttoned-Up-Tight they can have some serious fun on his piano, in his kitchen, and behind closed doors. But it's dangerous to keep a lid on something so hot. And a relationship was never on Cameron's agenda…
WARNING :: Indulge at your own risk! Cravings for exotic fruit, decadent delights, erotic fashion & steaming hot nights of pleasure have been reported.