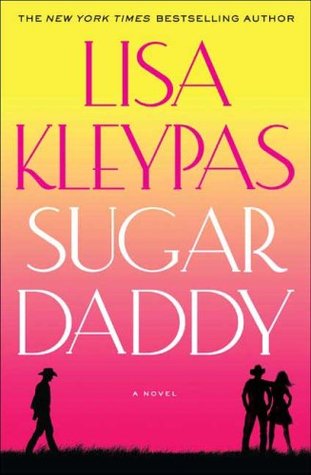 I was so excited to read Sugar Daddy (Travis Family #1) by Lisa Kleypas. I have heard so many wonderful things about this series, and I have to agree, this book drew me in hook, line and sinker.
Liberty Jones lost her father at a young age in an oil rig accident. It is just her and her mother and a string of her mother's boyfriends. When they move to a small trailer park in Welcome, Texas, Liberty finally makes friends, does not feel like such an outcast. Being the daughter of a Mexican father and an American mother, a lot of people have preconceived notions about Liberty. When she is befriended by Hardy Cates, for the first time in her life she feels safe. She feels the prickly of young love, and awareness. Hardy would never make a move on Liberty, even though she is what he wants most, because he is afraid to turn into his abusive father, he is afraid that he will be stuck in Welcome forever, and he has nothing to offer her. When Hardy hits the road it takes a piece of Liberty's heart with him. He is the man that she compares all others too.
"And I finally understood what Miss Marva had said about living by your own lights. When you're walking through the darkness, you can't depend on anything or anyone else to light your way. You have to rely on whatever sparks you've got inside you. Or you're going to get lost."
When Liberty loses her mother in a freak automobile accident, leaving her to raise her little sister Carrington, it will take all of Liberty's determination to pull herself up and make better life for the two of them. Getting her beauty license, she begins working for a top notch salon, where she meets a billionaire tycoon who wants nothing but to help Liberty and Carrington.
Liberty knows the looks that she will get, what people will think of her, that she got herself a Sugar Daddy, and that is exactly what Chrurhills's son Gage thinks. He is stand offish, he is rude, he tries to put distance between himself and Liberty, but the tug of attraction is too strong. When they give in, the sparks fly.
But when Hardy returns, richer, wiser, and wanting to reclaim Liberty, it will put her in a middle of the man that she loved as a boy and the man that holds part of her soul
Ok, I will be the first to admit that in the beginning, I really wanted Liberty and Hardy to get together. They had a connection and safety about them that made me root for them for most of the book. It was not until I saw the connection and the interaction between Gage and Liberty, the interaction between them and Carrington and the way that Hardy acted when he returned that I realized that Gage and Liberty were much better suited for each other. Without her knowing it, Gage tried to protect Liberty, he gave her the time and space that she needed to make her own decisions, but was there for her when she needed him, always providing a soft place for her to land.
Carrington added humor to the story, and the interaction and manipulation of Chruchill to try to push Liberty and Gage together was heart warming. I really enjoyed Sugar Daddy and cannot wait to read more in this amazing series.
Book Info:

 Published March 6th 2007 | St. Martin's Press | Travis Family #1
SHE'S FROM THE WRONG SIDE OF THE TRACKS
Liberty Jones has dreams and determination that will take her far away from Welcome, Texas—if she can keep her wild heart from ruling her mind. Hardy Cates sees Liberty as completely off-limits. His own ambitions are bigger than Welcome, and Liberty Jones is a complication he doesn't need. But something magical and potent draws them to each other, in a dangerous attraction that is stronger than both of them.
HE'S THE ONE MAN SHE CAN'T HAVE
When Hardy leaves town to pursue his plans, Liberty finds herself alone with a young sister to raise. Soon Liberty finds herself under the spell of a billionaire tycoon—a Sugar Daddy, one might say. But the relationship goes deeper than people think, and Liberty begins to discover secrets about her own family's past.
WILL THEY FIND THEIR HEARTS' DESIRES OR WILL HEARTBREAK TEAR THEM APART?
Two men. One woman. A choice that can make her or break her. A woman you'll root for every step of the way. A love story you'll never forget.