Cold Hearts (Secrets and Lies #2) by Sharon Sala starts off chilling, and kept the hairs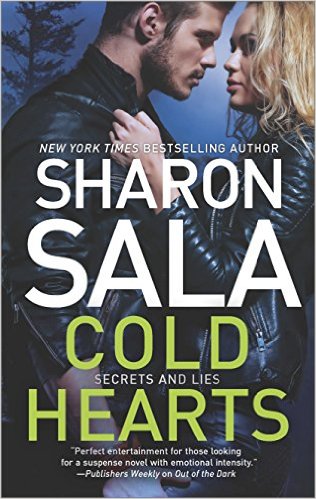 on the back of my neck raised through out the story!
When Mack's father is killed, a connection is slowly discovered between his death and another recent death in Mystic. His death brings Mack back to Mystic, and the unanswered questions keep him there. There is alot of unexpected for Mack in Cold Hearts…his father's awful death, the mysterious circumstances, and his reconnection with his high school love Lissa. Mack's father's death feels personal to Lissa, and she is deeply affected by it also. She is uneasy about seeing Mack again…because neither of them has gotten over the other, despite the hurt of the past.
As the investigation into Mack's father's death continues, things heat up again between Lissa and Mack. But there is more than one danger to keep ahead of, because someone is watching and stalking Lissa too… What is happening in this small town? What secrets does the past hold?
There is a lot going on in Cold Hearts. Lissa and Mack are strong main characters who I really liked. I liked their maturity and how they handled their personal relationship…both that of the past and their present. I was happy they were so real about what happened. They were very believable characters for me, and I loved watching their new relationship develop. The feelings between the two of them is palpable. This second chance romance is woven in very well with a suspenseful, mysterious, and at times shocking plot of murder. The strong stalker sub plot adds even more into the mix and kept me guessing. The way Cold Hearts is written it all works very well together to give a multi dimensional, exciting read.
There are a lot of secondary characters in Cold Hearts, and I liked the glimpses I got into their minds and their lives. Sharon kept the flow smooth and clear, and these secondary characters worked very well with the small town setting, and the mystery surrounding it.
At times shocking, brutally descriptive and vivid, Cold Hearts was easy to get caught up in. Sharon evokes a lot of feeling through out the book, from horror and heart break to hope and love. I liked how she mixed things up and kept me guessing. Parts of the plot are wrapped up at the conclusion…some in a very surprising and unexpected way. Sharon leaves enough threads unravelled to have me eagerly anticipating the next book in this series.
Cold Hearts is the second book in Sharon Sala's Secrets and Lies series, and while I do believe it can be read as a stand alone since Sharon gives enough back ground detail to negate any confusion, I do believe it will be more enjoyable if you read the first book (Wild Hearts) first.
I'd highly recommend Cold Hearts to any romantic suspense reader.
Book Info:

Published: August 25th 2015 by Mira
There's only one way to keep secrets buried…
If only it had been something else that brought Lissa Sherman and Mack Jackson back in touch after so many years. Something—anything—other than the murder of Mack's father. Even worse, Lissa's car had been used as the murder weapon.
Thirty-five years ago, four friends went out joyriding and ended up in a terrible accident that left one dead and the others with no memory of that awful night. Now two more people, including Mack's father, have been murdered, and if the lone survivor knows why they're being targeted, she's not talking.
Even as Lissa and Mack find themselves drawn together in the midst of tragedy, the mystery deepens when someone comes after Lissa, too. Is the danger to her tied to the other deaths, or are two killers at work in town? Now Mack has to fight an unknown attacker as well as his feelings for Lissa, but it may be that he can't win either battle.