Summer Fling (Compass Girls #3) by Mari Carr and Jayne Rylon is a BDSM romance done right. Be prepared, the prologue may cause some tears, so do yourself a favor and have some tissues handy. The romance and BDSM are equally powerful in this emotionally charged book about two lonely people that satisfy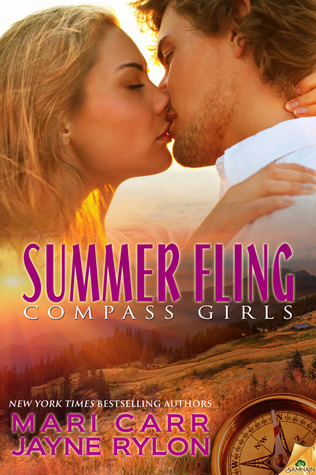 the emptiness in their hearts through each other.
Jade Compton is a country girl that stays busy by working on her family's ranch and tending bar at Spurs, the local watering hole in town. She is a tough, strong, independent woman that commands her own ship. She is the only child of the town sheriff and can spar with the best of them. She may not be a girly girl, but she certainly can pass for eye candy. The scorching summer heat is playing havoc on her good sense and she needs an outlet before she drives herself and those around her crazy.
Good-looking cowboy Liam Harrison loves training bulls and broncs for the rodeo circuit. Since his mom and siblings prefer life in the city, Liam took over the family's ranch after his dad passed away. Believe it our not, Liam and Jade met at the local cemetery eight years ago and have been friends ever since. Their friendship has evolved into a relationship they both treasure.
Liam kisses Jade in an effort to calm her down during one of her tirades and just like that, their relationship has changed. Jade has a lot of unleashed energy and Liam is just the man to help her reel it in. His methods may not be vanilla, but they both benefit greatly by the end of their summer fling.
Wow, what an adrenaline rush from this intense, hot, and emotional novel. Summer Fling is a powerful, well-written book with an all-consuming love story that took complete hold of my mind, body and soul from the very beginning. The sex scenes are hot, sensual and full of raw emotion, however, I found a couple of the BDSM encounters to be slightly harsh for my tastes. Now that I found this series, I plan on adding it to the top of my TBR list.
Book Info:

Publication: February 14th 2014 by Samhain Publishing, Ltd | (Compass Girls #3)
Summertime and the lovin' is easy…until it's not.
Compass Girls, Book 3
Too much love and loss taught Jade Compton to protect her heart and her sanity by steering clear of all that romance nonsense. She's doing just fine, working two jobs, hanging out with her cousins and her best friend, Liam.
But when a combination of unbearable heat wave and a case of the boredom blues knock her down, she longs to do something spontaneous…maybe even a little bit reckless.
Liam Harrison met Jade when she was sixteen—in the local cemetery. If he's learned anything after eight years of friendship, it's that Jade has a wild streak a mile wide. And while he doesn't want to tame the adventurous woman, he wouldn't mind showing her a few sexy ways to channel some of her impulsiveness. With him. In the bedroom.
When he proposes a sexy, no-strings-attached summer fling, Jade jumps at the chance to spice things up and indulge some pretty kinky fantasies. Then summer ends…and Jade comes to the uncomfortable realization that there's only one place she's comfortable in her own skin—Liam's arms.
Warning: Excessive heat in this story—in the bedroom, the barn, the kitchen, the bar. Drink lots of water. Stay hydrated!