Doctors Beyond Borders by Georgie Tyler: In Doctors Beyond Borders by Georgie Tyler, Ariadne Tate has deployed to Sudan with a medical aid organization to help those in need and to escape her failed relationship. She vows to herself to find a way to make a difference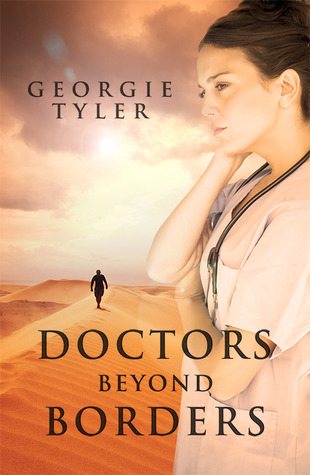 in a country devastated by war, famine and disease, as well as to forget the relationship and betrayal she left behind.
Ford Gosden was not in Ariadne's plans. He is too attractive for his own good and a really nice guy. Ariadne has been called cold before, and she is not ready for the feelings that Ford is awakening in her. They work and live together and any relationship would only complicate their working relationship. Then there is also the fact that once their deployment is over he will return to America and she to Sydney. Even if they tried, nothing would come from a relationship between them but heartbreak.
Ariadne will do her best for her patients and try to keep a distance from Ford. But little by little Ford will do his best to get under her skin. Starting by following her on a small vacation she decided to take and convincing her to give them a chance.
Unfortunately when Ford has to return to America right after Araidne returns to Sudan. Which leaves Ariadne left in charge and insists on going personally to run a delivery of supplies to communities. Since she has caught the eye of the leader of the militia, who believes she is a prize he must have, this is their perfect chance to kidnap her. And once Ford finds out he will do his best to return ASAP and rescue her not being able to wait for MSF or the UN to attempt to negotiate with the militia for her release.
Doctors Beyond Borders by Georgie Tyler is a novel full of drama, sexual tension and adventure that will have you wanting to know what happens next.
Book Info:

January 1st 2014 by Escape Publishing
She's about to find out that nothing is fair when it comes to war, except, the healing power of love.
When Ariadne Tate takes a deployment to Sudan with a medical aid organisation, romance is the last thing on her mind…but Dr Ford Gosden puts a glitch in her plans. Too damn attractive for his own good and a thoroughly nice guy, Ford slowly seeps under Ariadne's skin.
But Sudan is not a stable place to form a relationship, and as political tension escalates in the region, Ariadne has no choice but to focus on her job and her safety. Under the protection of a UN convoy, she heads out into the war-torn countryside — and the unthinkable happens. Captured and held hostage by a renegade with no chance of escape, Ariadne's hope for a new life with the man she loves begins to fade and the fight for her life begins.