In Swear on This Life by Renee Carlino, Aspiring author and writing instructor Emiline has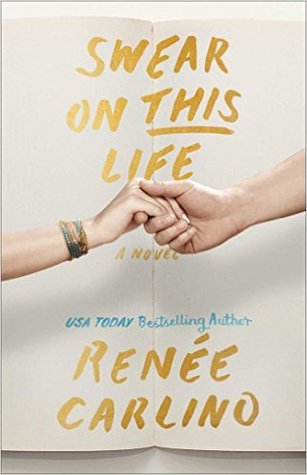 tried for years to leave her painful childhood behind. And she thought she had dealt with her emotional baggage until her best friend presents her with a new bestselling novel to read. She realizes after the first page that this is HER story. Emiline's crappy childhood is sitting on the pages, glaring back at her. And only one person knows those details because he shared most of those moments with her: her former best friend and her first love, Jason Colbertson. A man she hasn't seen in years but who used to be her everything.
"You're just…dammit…Why are you so good-looking?" The last part came out like a cry. I wanted to punch the smirk off his face.
"Well, you're beautiful. So there." I froze. "Then again, you always were."
"Oh, don't charm me with your wordy magic."
For a moment, a real smile, not some shit-eating grin, came to his lips. And just like that, in an instant, we were fifteen again.
A bit of research proves that popular debut author J. Colby is none other than Jase. The more of his book she reads, the more angry and confused Emiline gets. She realizes that she's been bumbling along in her life with her longtime boyfriend Trevor who seems more like a buddy, and a writing career that's at a standstill. Somehow Jase's story, written from her point of view, opens up something within Emiline, causing her to examine her feelings for both Trevor and Jase. She knows she won't be able to move forward until she lets go of the past. But she's not sure she knows how to let go of Jase. Or if she wants to.
'But reliving what we had gone through within the pages of his book brought everything back…both good and bad. And I was feeling it all again. My heart was growing right alongside the pain, and I didn't know what to do with myself.'
Swear on This Life is an absolute masterpiece. A work of art. A romance so grand and epic that it will have you smiling while you sob uncontrollably at how sweet, sad and tender it is. I'm talking ugly-crying here folks! But after all the smiles, sighs, whimpers and tears, I'm ready to zip right back to the beginning and go through it all again. It's simply that wonderful.
'If you can surrender to the idea that there might be a plan, instead of reducing every magical moment to a coincidence, then love will find you. It found me.'
I know we're only a little more than halfway through 2016 but I'm proclaiming Swear on This Life to be a Top Pick of the Year. It has to be, thanks to the incredible storytelling ability of Renee Carlino. She had me completely wrapped up in Emiline and Jase's relationship to the point that I felt like I was not just an observer, but a part of their story. It's not often that I feel that fully invested in a novel. But there was really no way *not* to feel each emotion Carlino so aptly described.
'Jase had planted himself inside of my heart so deeply that when we parted he kept growing there. We weren't together, but he was always there, like a part of my soul… We were a part of each other.'
It's probably a little bit difficult to understand the 'book within a book' concept until you start reading, but I thought it was sheer genius. All the Roads Between was basically Jase's retelling of his and Em's lives, with some creative licensing, and it was woven in perfectly to detail how their relationship changed over the years. We alternated between present day from Emiline's perspective as a struggling author and a writing instructor to the book written by Jase from her POV. It was at times heartbreaking, but mostly lovely–and hopeful!–watching her work through her emotions as she remembered how and why she fell in love with him. Emiline's confusion over her turbulent relationship in the present day with Trevor and the all-encompassing love she still had for Jase felt 100% real.
I adored the bond between Jase and Em. The strength they drew from each other growing up. Their loyalty. The depth of their love as they became teenagers. It was nothing short of awe-inspiring to watch the sacrifices they made for one another and the lengths that they would go through to be together. There were several gritty, all too real moments that made me angry on their behalf. (Those scenes may be difficult to get through for readers sensitive to stories of abuse and neglect.) But I think it painted a realistic picture of their unfortunate beginnings and why Emiline and Jase turned to each other for support.
"There once was a boy and a girl…"
With one of the most spectacularly romantic 'grand gestures' at the end, Swear on This Life will be sure to make readers swoon. I think you'll agree that every woman truly needs and deserves someone like Jase in their lives. And it's not often that I urge (demand) people to read a particular book, but this is definitely one of those occasions: Go forth and read!
Book Info:

Publication: August 9th 2016 | by Atria Books |
When a bestselling debut novel from mysterious author J.Colby becomes the literary event of the year, Emiline reads it reluctantly. As an adjunct writing instructor at UC San Diego with her own stalled literary career and a bumpy long-term relationship, Emiline isn't thrilled to celebrate the accomplishments of a young and gifted writer.
Yet from the very first page, Emiline is entranced by the story of Emerson and Jackson, two childhood best friends who fall in love and dream of a better life beyond the long dirt road that winds through their impoverished town in rural Ohio.
That's because the novel is patterned on Emiline's own dark and desperate childhood, which means that "J. Colby" must be Jase: the best friend and first love she hasn't seen in over a decade. Far from being flattered that he wrote the novel from her perspective, Emiline is furious that he co-opted her painful past and took some dramatic creative liberties with the ending.
The only way she can put her mind at ease is to find and confront "J. Colby," but is she prepared to learn the truth behind the fiction?