Sweet Bliss by Jennifer Bardsley is the first book in the Harper Landing series and also the first I have read by this author. It was a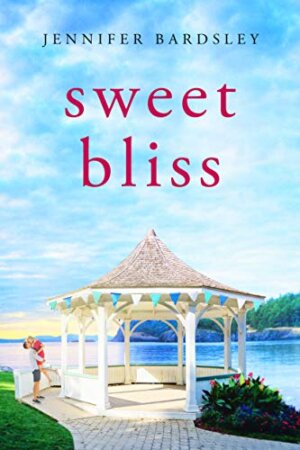 sweet small-town romance with charming characters. It was well written, easy to read and once I started reading it, I could not put it down. The characters were multi-layered, lovable, and so easy to connect with.
Aaron Baxter moved to Harper Landing with Jack, his newly orphaned nephew. He felt guilty and blamed himself for his sister and brothers-in-law's death. They had wanted to move Big Foot Paleo, their snack food company, from crowded California to Washington but Aaron refused to move. On their way home one night they were in an accident that killed them, leaving Jack in Aaron's custody. Aaron knew his brother-in-law and sister would have wanted Jack to be raised in the small and peaceful town of Harper's Landing. He was overwhelmed by all the sudden changes in his life and trying to adjust to raising Jack. Julia was a calming presence in his life and made things easier.
Julia was a descendant of Harper Landing's founder and well known to the community. She had inherited buildings downtown that were rented out to businesses, and they all required maintenance. Her family had not raised the rent in years and the only way she could afford to make repairs was to increase rents. One of the shop owners berated her every time their paths crossed. She already had low self-esteem and his comments really bothered her because she was trying to do the best thing for the town.
This was a sweet small-town romance and I enjoyed meeting all the people of Harper Landing. It was light, funny, and a quick book to read. I loved seeing Julia stand up for herself as her confidence grew. I am glad I had the chance to read this book and I look forward to the next book.
Book Info:

Publication: July 13, 2021 | Montlake | Harper Landing #1
Welcome to Harper Landing, a small town filled with people who believe in happy endings.
Left raising his newly orphaned nephew after a tragic accident, Aaron Baxter fears he's not cut out to be a single dad. But to give baby Jack the life he deserves—and to find a peaceful refuge for himself—Aaron moves to the idyllic Pacific Northwest town of Harper Landing.
Julia Harper, descendant of the town's founder and successful frozen yogurt shop owner, is mostly resigned to her role as the often-overlooked girl next door. But when the town newcomer, Aaron, reaches out for help with Jack, she finds herself yearning to take part in a sweet love story of her own.
To Aaron, the grace Julia extends is a balm for his aching heart and the guilt he feels over his sister's death. To Julia, Aaron's adoration is the key to finally realizing her own worth. With a baby in the middle, can these two hurting souls find completeness in each other?