In Sweet Home Carolina by Kim Boykin, Darcy has left her profession as a lawyer to follow her dream. She's bought a historical home in Magnolia Bay and is renovating it into a B & B. With money tight, Darcy feels like she's running into endless road blocks as she tries to get her B & B not only up and running, but on the historical list which will really get the B & B noticed. The house used to be a brothel, and no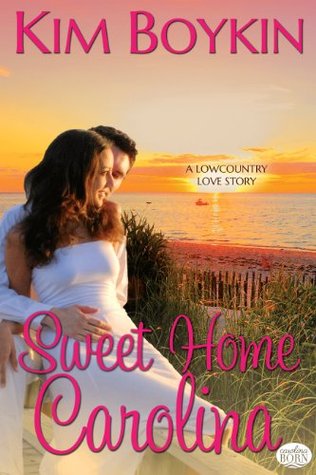 one really likes to remember that.
Darcy meets Trent, who is home in Magnolia Bay temporarily. He is full of charm and confidence…neither of which Darcy is interested in. Trent is definitely interested though, and when he finds a way to help her he does. Trent is everywhere and Darcy can't resist him for long as they spend more and more time together. Trent is falling for Darcy, but as things heat up he is caught between family, doing what is right, Darcy and her B & B, and his plans to leave again. Can he reconcile it all and have a chance at more with Darcy? As Darcy struggles to open her B & B, her faith in Trent is tested. Neither of them were looking for love, but will they take the chance on their hearts? He hadn't planned on staying, and she was hoping to put down roots.
Sweet Home Carolina is a well paced novella, with some great characters. Darcy is a heroine who deserves our admiration. She's a hard worker, determined, and independent. She's been through her share of heart ache, and it was great to see her character grow and become part of the community of Magnolia Bay. Trent is not quite as settled as Darcy, his career as a professional golfer is on hold. Despite his cockiness at times, he is caring and wants to do what's right. Between the two of them the chemistry is fantastic, and they really work well together when they are communicating!
Kim gives us Darcy's POV in first person, and effortlessly switches to third person for Trent's POV. I love how she did this, she really makes it work well and transitions smoothly so the flow is continuous. It gives the reader great perspective on the story!
Sweet Home Carolina is more than the romance of Trent and Darcy, it's the personal growth of both of them individually as well outside of the romance and I felt that this really gave Sweet Home Carolina depth. Kim ties it all together well, and I'd recommend Sweet Home Carolina to any romance reader looking for that!
Book Info:


Published May 10th 2014 by Tule Publishing Group, LLC
Darcy Vance has sunk every cent she has into making Mimosa House the best bed and breakfast in Magnolia Bay. But the key to her success lies in the hands of the Historic Preservation Society run by the Bloom bitches who are embarrassed about their father's connection to the storied house and they have no intention of validating it with a spot on the society's registry.
After losing his PGA card, Trent Mauldin has come home to Magnolia Bay to lick his wounds and has no plans to stay. Until he falls for Darcy. Things heat up between the two until Trent's good intentions to help Darcy go sideways. While Darcy works to save her house, Trent fights to win her back and keep her in Magnolia Bay for good.