In Sweet Little Lies (Heartbreaker Bay #1) by Jill Shalvis, Day cruise ship captain Pru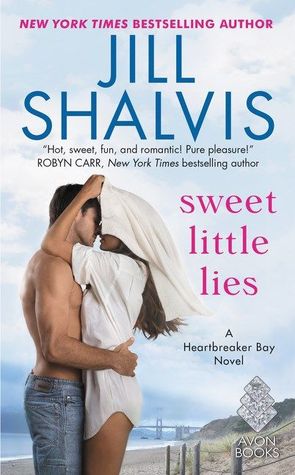 Harris has spent the last eight or so years of her life trying to correct mistakes that she didn't even make. She's hoping that one of these days she'll be able to finally move on. For now she's happy with her rescue dog Thor and the apartment she just got in a funky historical building in San Francisco. Pru loves the friends she's made so far. Now if she could keep her heart from beating out of her chest whenever she sees Finn O'Riley, she'd feel even better. Especially after she makes a wish in the building's supposed magical water fountain on Finn's behalf.
"You sure he's a dog?"
Some of the stress left Pru at that and she laughed a little. "Yes, but whatever you do, don't tell him." She covered Thor's ears. "I think he thinks he's a grizzly."
Finn and his younger brother Sean are doing their level best–well, okay, more him than Sean–to make their Irish pub a success. And working around the clock has kept Finn busy but not really living his life and having fun as his friends like to point out. So when Finn begins to fall for Pru, the captivating knockout who lives in the building, and she challenges him to have fun for a change, what has he got to lose? Unfortunately, it turns out his heart. Because Pru captures Finn's heart in record time but when the truth about her past comes out, it threatens to tear them apart.
"You going to break my heart, Pru?" he asked softly, only half joking because what he knew–and she didn't–was that she could absolutely do it if she wanted. She could slay him.
"Actually," she said very quietly. "I'm pretty sure it's going to be the other way around."
Jill Shalvis is back with a brand new contemporary romance series centered around a tight group of friends in picturesque San Francisco. Sweet Little Lies kicked things off with a bang as Pru and Finn proved they just couldn't stay away from each other for a single minute.
"I wasn't finished with you, Pru," he said softly. "I had plans."
Oh boy. "Maybe I had plans, too."
"Yeah?" Closing the gap between them, one of his hands went to her hip, the other slid up her back to anchor her to him. "Tell me. Tell me slowly and in great detail."
While this might not be a small town romance like we had with the Lucky Harbor series, there was a decidedly cozy feel to this book. Shalvis has focused so far on one historical building and the people who live, work or just hang out there. One of the fun things about the building? There's also a fountain in the courtyard that is said to grant wishes to people who truly believe. Pru was one of those people who made a wish and it ends up becoming a recurring fun and somewhat poignant theme throughout the story.
No one writes comical but heartfelt dialogue quite like Shalvis does. And there were many, many times that I found myself laughing at the conversations between Finn and Pru. She had a tendency to accidentally hurt him (darts and then a heavy box may have been involved) so the situations they found themselves in were classic. I also loved the whole dynamic between all of the family/friends who we got to meet here who will likely have their own stories in the future: Sean, Willa, Spencer, Archer, and Elle. They all seemed like genuine people who had each other's backs whenever needed and I admire those kinds of friendships in a story like this.
Pru and Finn were solid characters. He was a stand-up guy who was working hard to make his pub a success and keep his brother Sean on the straight and narrow. He had some commitment issues after a rough childhood and an ex that took him for granted, but Finn was perfect for Pru. And I thought our heroine being a ship captain was a pretty cool idea. That's not something you read about a lot in this genre. Pru was a wonderfully loyal, selfless person who was trying to atone for mistakes she didn't make. *Her* only mistake in my eyes was that she withheld information from Finn that caused issues in their passionate relationship. Otherwise I adored them both.
With a rescue mutt that hilariously had 'Little Man Syndrome', chapter titles in the form of hashtags (#ThereAren'tEnoughCookiesForThis was my favorite!), and a ragtag bunch of locals who couldn't mind their own business if the world depended on it, Sweet Little Lies reinforced why Jill Shalvis continues to be one of my go-to authors.
Book Info:

Publication: June 28th 2016 | Avon | Heartbreaker Bay #1
Choose the one guy you can't have . . .
As captain of a San Francisco Bay tour boat, Pru can handle rough seas—the hard part is life on dry land. Pru loves her new apartment and her neighbors; problem is, she's in danger of stumbling into love with Mr. Right for Anybody But Her.
Fall for him—hard . . .
Pub owner Finn O'Riley is six-foot-plus of hard-working hottie who always makes time for his friends. When Pru becomes one of them, she discovers how amazing it feels to be on the receiving end of that deep green gaze. But when a freak accident involving darts (don't ask) leads to shirtless first aid, things rush way past the friend zone. Fast.
And then tell him the truth.
Pru only wants Finn to be happy; it's what she wishes for at the historic fountain that's supposed to grant her heart's desire. But wanting him for herself is a different story—because Pru's been keeping a secret that could change everything. . . .