Take a Chance on Me (Love on Chance Avenue #3) by Jane Porter is a wonderful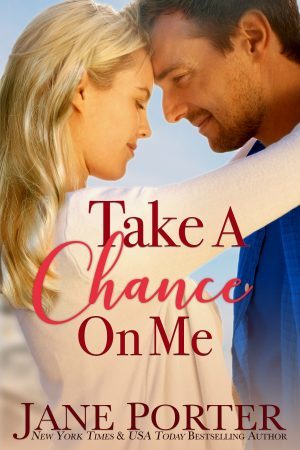 story that will take you through a roller coaster of emotions. This is the first book in the series that I have read and I will definitely go back and read the other books in this series. This book however can be read stand alone. I was not lost, but sucked into the amazing story. This is the story of Amanda and Tyler.
Tyler Justice wants to take care of his grandmother, wants to make up for that his father never did, and want better way than to move her to his home. That way he can make sure that she is taken care of, that she is not taken advantage of. Especially from the girl that he feels is trying to cheat his grandmother out of her money….one Amanda Write.
Amanda Write has had a tough upbringing. From the wrong side of the tracks, she and her sisters have always been the subject of town gossip, been looked down upon, have been treated like poor white trash by everyone, except Bette Justice. She is the only person, other than her sisters who really believes in Mandy. So when Bette asks Mandy to help her convince her grandson that she is happy in Marietta and does not want to leave the town, the friends, and the place that she loves so much, Mandy has no choice by to agree.
At first Tyler has his misgivings about Amanda, but as he begins to see past his own first impressions, he begins to really enjoy his time with Amanda. As the two grow closer, and spend more and more time together, the thought of leaving Marietta seems ridicules to Tyler. This might be the first time in his entire life that he wants to put down roots in a sleepy little town.
But when a secret from the past is revealed, it rocks Amanda to her core and brings up all of her insecurities, It will take Tyler's love and patience to bring her back around and into his arms again.
I really enjoyed this story. I truly felt for Amanda. After everything that she had been through in life, it is a testament to her inner strength that she survived and thrived. I loved the interactions with Amanda and Tyler. Their connection was real. Amanda's insecurities were real as well. Wondering if Tyler was going to stay or go, and when the bombshell is dropped, it really throws Amanda for a loop. This story is real and touching and sweet. I look forward to more.

Book Info:

Publication: March 18th 2018 | Tule Publishing | Love on Chance Avenue #3
Savvy stylist Amanda Wright loves Marietta, her hair salon, and her clients, and no client is more dear to her heart than eighty-year-old Bette Justice–even if her years have made her a little fragile. So when Bette asks Amanda to help her convince her determined grandson, Tyler, a successful game designer, that Marietta is the right home for Bette, Amanda can't say no.
Tyler Justice has a one-track mind–he wants to take care of his beloved grandmother. He can't understand her resistance to move to Texas and is sure that the young friend she keeps mentioning–Amanda–is taking advantage of his grandmother's generosity. He reaches Marietta determined to put the salon owner in her place and bring his grandmother home…until smart, kind Amanda starts to tug at his heart in ways he never expected.
But just as Tyler and Amanda start to form a real connection, will a long-buried family secret destroy their chance at love?