In Take Me Away (Southern Bride #6) by Kelly Elliott, Air Force test pilot Nolan Byers once had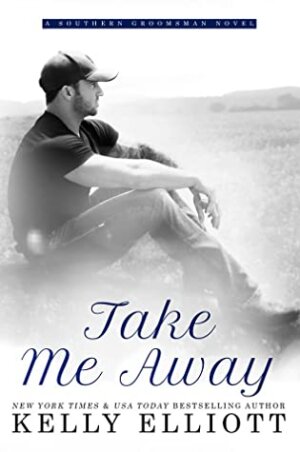 everything he'd ever wanted all within his reach until a tragic accident shattered those dreams completely. Now, to keep his mind from continuously focusing on his heartbreaking past, Nolan pushes his body to the limit with every extreme sport he can think of–and with his dangerous career. But his love for Linnzi Cunningham, his former high school sweetheart, has never gone away in the eight long years they've been apart.
'It was high time everyone stopped worrying about the past and looked forward to the future. To my future.'
When Linnzi walks back into Nolan's world, ready to deal with their past, he plans to be there by her side every step of the way if it means he gets to keep her in his life this time around. But neither of them realized the depths of the trauma they truly suffered almost a decade ago. And with so many of the details still a mystery to Linnzi, Nolan will have to tread lightly until it's all revealed. He'll also have to keep faith in the strength of their love–and pray it will be enough to get them through it all.
'All that mattered was this one kiss. It spoke of forgiveness, love, loss, regrets, dreams, and passion. All wrapped in one kiss from the most amazing woman I had ever known.'
An incredible romance that will make you cry, laugh, and swoon repeatedly, Take Me Away captured my heart completely and solidified why I keep coming back for more of Kelly Elliott's deeply emotional novels.
"I've never stopped loving you. *Never.* I've been waiting, Linz. For eight damn years, I've been waiting for you."
I truly don't know if there are words to describe how much I adored Nolan and Linnzi. Or how heartbreaking their situation was. Because it was basically a no-win set of circumstances they found themselves in, with no way they would come out of it without having to work through some gut-wrenching emotions. And as much as I was flying through the pages, I have to admit when it came to the scenes I knew would pack the biggest punch emotionally, I had to stop and prepare myself for it. Seriously. That was how real Kelly Elliott's writing was and how tangible the characters' feelings were in every scene.
Without spoiling the reason why Linnzi and Nolan separated (*sob*) it was so clear from the start how deeply they cared for each other. Even after eight years apart, they fell right into the same pattern together and it seemed like they were on their way back to where they left off before the tragic event. I think some readers will question the choices both Nolan and Linnzi made over the years. And with their reactions. But I felt like they both had the best of intentions and tried to do the right thing at the time.
Don't worry that the storyline was all dark and heavy, though. Elliott included enough lighter moments along with the oh so sexy connection between Linnzi and Nolan to keep things balanced. There was a nice sense of community, too–that small town, down home feel I love from her books–that made its way into the story as we caught up with previous characters from the series.
Take Me Away wowed me at every turn. Beautifully written, with everything from devastating loss and secrets to the joy of love rediscovered, Kelly Elliott gifted her readers with a powerhouse of a romance.

Book Info:

Publication: December 22nd 2020 | Pub: K Elliott Enterprises, Inc | Southern Bride #6
When I'm not a test pilot flying for the U.S. Air Force, I can be found risking my life in other ways.
Skydiving. No problem.
Bungee jumping off a bridge. Like a pro.
Paragliding in Switzerland. Time of my life.
Zorbing in New Zealand. Fun as hell.
You see…all these life-risking adventures are not just a hobby for me, not just a way to pass the time. I need the adrenaline rush like I need my next breath. I'm addicted to it. It's the only thing that allows me to bury my painful past—even if only for as long as it takes for me to come down from the high. All that matters is that I'm able to forget. And every heart-stopping moment of it was working…at least, until she appeared back in my life.
Both my worst nightmare and my wildest dream all wrapped up in one beautiful woman…a woman I was still very much in love with.
And that's not the worst part…
Linnzi Cunningham has no idea who I am. She has no idea how intertwined our terrible pasts are—and for that, she is lucky.
She doesn't remember the night when everything important in her life, everything that she lived for, was taken from her by the man who promised he would always protect her.
That man was me.
To love her is to forget she ever existed in my world.