Today it is my pleasure to Welcome author
Aliyah Burke
to HJ!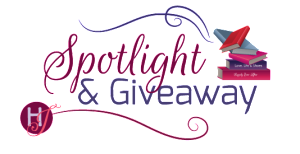 Hi Aliyah and welcome to HJ! We're so excited to chat with you about your new release, Her Marine Next Door!

Hi! Thank you so much for having me here today. It's an honor and Happy Holidays!

Please summarize the book a la Twitter style for the readers here: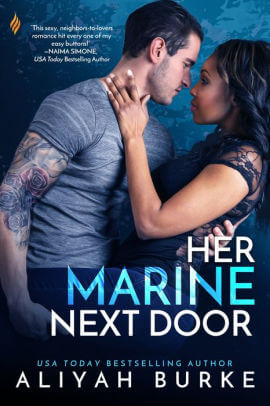 1 pain in the ass neighbor who she can't stop fantasizing about + 1 unexpected development = him and her together in her house. What better time to act out those fantasies. Past pain, baby momma drama, meddling parents. It won't be smooth sailing but he's not giving up on them, he's had her and he won't let her go.

Please share the opening lines of this book:
Skylar Radford jumped as she emitted a squeak at the unwanted, deep, and unmistakable rumble of the Harley roaring down the cul-de-sac. That obnoxious, earsplitting sound could only mean one thing. He had returned.
Parker Jax.
With a frustrated sigh—a mixture of sexual want and irritation—she climbed off the stool at her workstation and went to the window to steal a hungry look.
Please share a few Fun facts about this book…
I had a blast writing it. Okay, that might not count, I enjoy all the books I write.
The nautilus shell on the putt putt course, is the one that I *still* can't beat. Thought it would be nice if someone could.
The disc golf course is taken from the park that DH (hubby) and I used to go to when we were stationed on the East Coast.
I got the artist she was listening to in one of the scenes remembering him when I watched the royal wedding of Harry and Meghan because I wanted someone different than I usually mention in books.
Street vendor hot dogs are one of my favorite items. The ones mentioned in the book, I love, and have had them. They deserved a mention!
What first attracts your Hero to the Heroine and vice versa?
Looks were the first thing, as they are neighbors, but they each have their own reasons for staying on their side of the fence.

Using just 5 words, how would you describe Hero and Heroine's love affair?
Flirtatious
Intense
Passionate
Turbulent
Revealing.

The First Kiss…
She turned to the man whose arm continued to feel so good against her and found him staring down at her. "Why would you pretend we're together? You know that woman is a notorious gossip. Sweet as pie, but can't keep her mouth shut to save her life."
"Who said I was pretending?" He winked then kissed her.
Skylar's entire world shifted on its axis. Knees trembling, she leaned into him with a whimper. This was no tender kiss. No. He possessed every inch of her with it, tongue surging through her mouth. He slid his around hers.
Christ. She'd forgotten what a kiss was like.
The man ended the kiss, tugging on her lower lip in a playful tease. "See you later, baby." Parker smacked her on the ass, then he strode out the door without a look back.
Chest heaving, she closed the door and rested against it with a groan.
Without revealing too much, what is your favorite scene in the book?
Ohh, unfair. Okay, so I have two but I will go with this one.
Skylar withdrew two bottles of Schnapps and placed them on the countertop. After grabbing a glass, she turned to carry all three items to the couch where she had every intention of indulging and not remembering a damn thing come morning and froze.
Standing in the open doorway leading to her backyard, dripping water on her light gray flooring, teddy bear in one small hand, was Cullen. His eyes were wide and even with the distance between them, the fear emanating from him was palpable. His tiny body shook.
"Bud, what happened? What are you doing over here?" She damn near sprinted over to him and ignored the sting of pain as her knees hit the floor; one of the bottles toppled over behind her but she didn't care.
"Mama," he sobbed, wrapping his thin arms around her as he buried his face into her neck. The bear dripped cold water down her back. Each clap of thunder had him shaking harder. Even his teeth chattered.
Her heart broke and she rose, keeping him in her arms. She headed straight for the bathroom and got him stripped and wrapped in a dry, thick towel. His blue gaze latched onto her, and he wasn't releasing her.
"We have to leave Murray here for a bit with your wet clothes."
Tears still fell from his eyes and he shivered. "Stay with Mama."
"Yes, you're here with me tonight."
If your book was optioned for a movie, what scene would be absolutely crucial to include?
I would hope this one.
She appeared before him, on her knees. Skylar settled her hands on the outsides of his thighs, close to but not touching the envelope he held. In his periphery he noticed the drink beside him on the end table. "Parker."
He lifted his gaze to hers and fell a bit further in love with this incredible woman, if that were possible.
"You don't have to do anything you don't want to."
"This could change everything. It will. Either way."
A muscle flexed in her jaw. "Do you really think that?"
"You don't?"
A sad smile flashed across her features. She pinched her lips tight then moved her hands, reaching for the envelope, only to pause.
He waited.
"May I?" She gestured to the paper, head cocked to the side.
Parker handed it over. He stared at her fingers as they curved around the edges. Her pale, unpainted nails had some chips in them from work. There was a half-moon bruise on her thumbnail.
Sexy. He knew what she did and how she got those marks.
Once she held the results in her hand, she shuffled closer on her knees, pushing her way between his legs until she couldn't get any closer. He closed his arms around her and rested his face against the side of her neck.
She smelled like home to him. Her scent, heat, and comforting feel of her made it all right.
I can take whatever the results are. So long as she's here with me.
Readers should read this book …
I hope to help them escape from everyday reality for a while, and just enjoy the ride that, while there will be ups and downs in the story, I always write one with a happily ever after. Our daily lives can be full of so much "other" it's nice to just be able to dip your toes into a place where you know by the end, everything will be right. Villain loses, hero and heroine win.
What are you currently working on? What other releases do you have planned?
I'm actually working on five right now. One being a story that links to this one with one of Parker's friends. I'm rereleasing some books over this next year again that I've gotten back from publishers and finishing up some series. Right now, working on my third cozy, the one that follows Her Marine Next Door, some paranormals and a historical.
2021 is going to be a busy year, but I wouldn't have it any other way!
Thanks for blogging at HJ!
Giveaway:

Any ebook from my backlist. Thank you to everyone who stopped by! It was such a pleasure to be here..
To enter Giveaway: Please complete the Rafflecopter form and Post a comment to this Q:

What is it that draws you to a book when you are looking? Cover? Blurb? And does it vary by genre?
Excerpt from Her Marine Next Door:
The scrape of wood on the bed of her truck had her looking out the open garage door. Her breath left in a rush. Parker was there, dragging some of the wood for her. She captured her lower lip in her teeth and just watched.
Pants and boots. That was it. No shirt and all his tattoos were on display. He'd not shaved, and his scruff only added to that hot ass bad boy, bad man, image he had so well.
The man was just a fucking sex ad. He oozed it and not in a gross way but one of those panty melting, want to strip naked and offer yourself to him and whatever he would give, sort of ways. Or drop to her knees before him and see what came up.
The play of the light along his defined muscles created a low burn of yearning within her gut. At the exact moment he turned toward her, she readjusted and put her focus back on the job she was supposed to be doing.
Although ogling Parker Jax was a job she'd happily sign up for.
With her injured hand, she reached for the paper she'd drawn her design on and stared at it. Even so, when he dropped the first load and retreated back to the truck, she couldn't help but pivot slightly to allow herself the visual spectacle once again.
Rinse, reuse, and repeat. She did it each time he hefted a load of wood, unable to get enough of watching him work. Gazing back on her paper, she removed the pencil from behind her ear and bent over to fix what she noticed to be wrong—it was the carving on the side.
Elation filled her as she sketched the fix. A moan slipped free as a large hand settled upon her ass.
His strong body pressed against her, skyrocketing her body temperature to an even higher degree.
"You know, if you want me to strip and work for you, I'm happy to do so. No need to hide that you're staring at me."
"You're not wearing much now."
"So you were watching me. Good to know." He kissed her on the cheek. "What are you doing?"
It warmed her to have him ask about her work. He actually seemed interested in it and the process she went through to create her pieces.
Skylar held up the paper and tapped it with the flat end of her carpenter's pencil. "Something has been off about this since I finished. I just realized what it was. The design on the sides."
His booted feet scuffed as he edged closed in an intimate manner and reached out with his right hand to touch the other side of the paper. Her right hand was between his and hers, still indicating the spot she wanted him to look.
"What are you changing?" The warmth of his breath skimmed along her cheek.
She bit the inside of her cheek and fought against her need to lock her knees.
"The design is off, so I focused on building it, figuring I could just adjust the carving after."
"Baby, you're fucking amazing with all of this. Where are you adjusting it?"
Tears pricked her eyes and she swallowed hard. No one since Reggie had shown interest in her abilities. Aside from the customers, of course. But Reggie had taught her woodworking; it was different hearing praise from Parker.
After she finished, he plucked the paper from her hand and placed it atop the table then faced her completely. "Can I tell you something?"
How the hell was she supposed to think straight when he was standing before her damn near naked. Skimming him with her gaze, she lingered at the happy trail leading below the waistband of his pants and down to the definite ridge. How long, how thick, how much pleasure it could bring her.
Heat coursed, and she swallowed hard a few times.
"Sure."
He pushed her chin up with one finger. "Up here, baby." His incredible eyes twinkled with amusement.
Oh that's just fucking embarrassing. She blinked as if he'd not had to redirect her gaze. With a haughty sniff, she cocked an eyebrow. "What did you want to say?"
His grin was one hundred percent born of the devil. "So much I want to say." A blatant roving of his eyes over her. "But, this is about your talent. I watch you, and I just can't believe how you can take that"—he gestured to the wood he'd just unloaded—"and turn it into this. Then with the carvings. I meant it the first time I said it. Fucking incredible."
She flushed from his praise. "Thank you."
"Come on."
"Where?"
"So suspicious. I'm taking you out to dinner. You've worked hard. I almost worked hard. I mean, I did at PT. Cullen is with his mom tonight. Come on."
Her gut soured at the mention of Cullen being with Gemma. A mental reprimand to remind her that he was safe with his own mother. Wasn't he?
"I'm not going to dinner like this."
He waggled his eyebrows at her. "Want to share a shower?"
"Yes, yes I do." Wickedness spread over his features threatening to pull the air from her lungs. "But," she added, holding up a hand. "No."
"No?" He gripped the sides of her shirt, pulling her closer. "I'm pretty fucking sure I'm a man who showers with his sexy fiancée."
"That's a ruse. For when people are watching. We shower separately." She removed his hands and stepped back. "You go ahead. I want to finish up here first."
He watched her for a few charged moments, but she wasn't sure what to make of his expression. He gave a sharp nod and spun around, striding to the door.
Damn man looked as good going as he did coming.
She blinked and he was right back in her space. He hauled her up by her arms and kissed her. Pushed his tongue deep into her mouth, and she welcomed him with a whimper of surrender. Their tongues danced together until he released her and vanished back into the house, the door closing silently behind him.
Skylar leaned against the workbench, heart pounding behind her ribs. Her hands shook as she reached for the paper and used her foot to hook the stool and bring it to where she could use it.
Damn good ruse.
Excerpts. © Reprinted by permission. All rights reserved.


Book Info:
My next door neighbor Parker Jax is not my type. He's covered in tats, rides a motorcycle, and his parties keep me up all night. The fact he's sexy as sin doesn't change the fact we are oil and water.
I'm a quiet artist. He's a rowdy marine. I've got a broken heart. I'm convinced he doesn't have a heart at all.
Thankfully, my bad-boy neighbor is on leave from the Marines for only thirty days. But then the jerk has to go and show me that he has a soft side beneath all those hard muscles. He actually leaves his own party to help me, and he didn't even have to.
Fantastic. Now I owe him.
I'm not worried, though. What are the chances he'll need me to do anything before the month is up?
But when a woman shows up with a kid at her side, knocking on Parker's door, it turns out those chances are pretty good…
Book Links: Amazon | B&N | iTunes | Goodreads |


Meet the Author:
Aliyah Burke is a USA Today Bestselling Author who's an avid reader and never far from pen and paper (or the computer). She is happily married to a career military man. They are owned by three Borzoi. She spends her days at the day job, writing, and working with her dogs. She loves to hear from her readers and can be reached here.
If you would like to be kept abreast of what's going on in the world of Aliyah, please join her newsletter: http://aliyah-burke.com/newsletter.htm and/or cozy newsletter: http://aliyah-burke.com/abnewsm.htm
Website | Facebook | Twitter | | Instagram |