Take Me by Caitlin Crews is another steamy addition to the the author's erotic romance series Filthy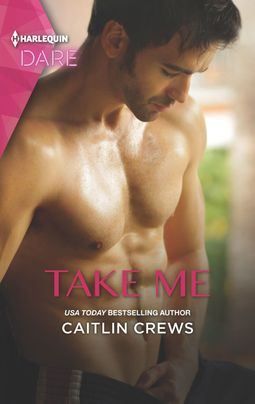 Rich Billionaires.
Before Lady Jenny Markham settles down in a loveless arranged marriage there's one more thing she has to do. It involves a trip to Australia, and convincing her best friend, playboy Dylan Kilburn, a man who always leaves women fully satisfied, to show her what's she's been missing. Little does she know that Dylan has lusted over the opportunity to have Jenny in his bed for years. Given the chance now, will they realize that their best chance of a real happy ending is together?
This is another satisfying sexual romp with the added bonus of a friends to lovers romance. Jenny and Dylan met in college but Dylan knew then that his pedigree would not please her father, so he kept himself in the friend zone despite wanting more. When Jenny shows up on his doorstep looking for sexual satisfaction before her marriage (an arrangement entered into only to make her father happy), he can't resist the temptation even though he knows it's going to be short lived. He's been in love and lust with her for years, but she's always kept him at a distance. Now that distance is erased in a few scorching nights together, especially when Dylan shows Jenny exactly how he likes to take control.
Despite having his dreams come true, the harsh reality that she plans to marry someone else makes Dylan guard his feelings about her closely. A little too close, as he almost ends up losing her and has to make up for his mistake. I love how the tension builds from the start, the very steamy love scenes, and how both of them reveal their true selves to each other after keeping certain facades in place for so long. It's an intense, thoroughly enjoyable story with a well deserved happy ending and epilogue. I can't wait to see who Jenny's ex-fiance Conrad (who wasn't particularly unhappy over the ending of their engagement) ends up with in the next story in the series!
Book Info:

Publication: May 01, 2020 | Harlequin Dare | Filthy Rich Billionaires #2
"You need to be absolutely certain you want to open this door, Jenny. Because once it's open, I don't think you can close it again…"
Random spontaneity is not Lady Jenny Markham's style. Her blue-blooded self-possession permits her to think with her head—never her heart. It's precisely why she's engaged to the perfect man she doesn't love. And yet Jenny just flew ten thousand miles to Sydney, Australia. On a whim. To see the green eyes and devilish grin of her best friend, up-for-anything Dylan Kilburn…and to forget the words ringing in her head. You've never been shagged properly.
Of course, that's exactly why Jenny's here. Why Jenny's body is engulfed by hot, aching need. Because she wants Dylan to show her what she's missing before she locks herself into a loveless marriage.
Jenny promised that nothing would change between them. Dylan promised that he wouldn't fall in love with her. But the moment his mouth takes hers, all hunger and raw, molten lust, Jenny knows that there's no going back. Not from this. And now she's well and truly screwed. Because just as Jenny finally starts thinking with her heart, she realizes she's about to lose it…to her best friend.