Taking Him (Lies We Tell #1) by Jackie Ashenden is an amazing, slightly dark read about computer game designer Ellie Fox, her over protective brother Vin, and Hunter Chase, Vin's best friend and business partner. Ellie fell in love with Hunter when she was only eight years old. He has always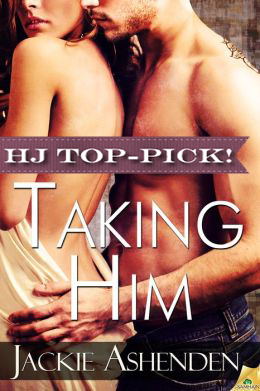 been a calm constant in Ellie's life in addition to being her protector and biggest supporter. Unfortunately, Hunter has never seen Ellie as anything other than a little sister, and he has no idea that her childhood crush is bigger than ever.
Hunter's teenage years were truly dysfunctional, and as a result, he is unable to have a real, loving relationship. Immersing himself in his work, refurbishing motorcycles and the occasional alpha sexual dalliance, is able to keep his demons under control. On days when he feels completely helpless to command his life, he purposely causes himself pain. Hunter blames himself for his inability to absorb love in any form and needs help to reclaim his sexual freedom.
Because Ellie is leaving for a new job and life in Japan in a few weeks, she decides to act upon her feelings for Hunter and attempts to seduce him. Ellie will take anything Hunter is willing to give, because she loves him so much. Even if touching, seeing and kissing is not on the menu. The first seduction doesn't go very well, but she perseveres and eventually she and Hunter get together. In fact, because Ellie's lease is up, she ends up staying with him until she leaves Auckland. She helps him work through his past so that a future together is a remote possibility . However, getting hurt along the way is only the tip of the iceberg.
To begin with, Ms. Ashenden is an incredible storyteller. This is an unconventional and intense read that kept me on the edge of my seat from beginning to end. Hunter is an endearing character and his angst is palpable. He is real and identifiable. He lies about his past because he is ashamed and full of guilt, which is just normal human nature. I loved him from the start and cheered as he evolved from a broken man into a confident individual. Vin is the epitome of an older brother yet wishes he had been able to spend more time with Ellie while she was growing up. I found Ellie to be a remarkable and insightful young woman, with the ability to break down the barriers of those she loves in order for them to find peace. The fairytale ending concludes the story perfectly.
Book Info:

HJ Top Pick
Expected publication: November 12th 2013 by Samhain Publishing, Ltd. | Series: Lies We Tell #1
Behind every hero is the damage that made him.
Lies We Tell, Book 1
Computer game designer Ellie Fox can't wait to start her new job in Japan. But first there's one loose end in Auckland she needs to tie up: her obsession with her older brother's best friend, Hunter Chase.
She's sick of being "kid zoned". It's time to make like one of her kick-ass computer game heroines and take matters into her own hands. Except when she finally has Hunter where she wants him, her hands are the last thing he'll let her use.
Hunter works hard at running the construction firm he co-owns with his friend, and at keeping his distance from his dysfunctional family. Control is his linchpin, but there's just one spanner in the works—Ellie.
The girl he always looked out for suddenly seems determined to make him see her as a woman. But with a past darker than the angel wings tattooed on his back, the safest place for her is just beyond arm's length. Or the next heart to suffer damage could be hers.
Warning: Contains a tortured hero, a determined heroine, cosplay kink, and a twisted twist that could cause mental whiplash. Line to the WTF Infirmary forms on the right.