In Not Just the Boss's Plaything by Caitlin Crews, Alicia has been trying to clean the dark stain on her image for the past eight years and therefore has sworn off men along with the party circuit. She has a stable job and lives a quiet and peaceful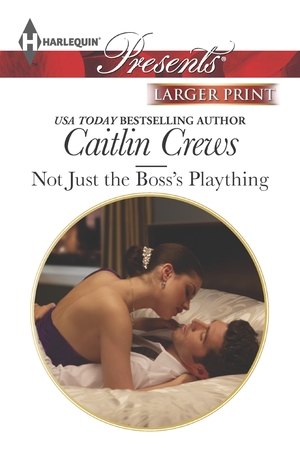 life untill Nikolai Korovin's comes along and makes her break her self imposed rules.
Nikolai's iron clad control is legendary but Alicia makes him feel so many things that he had not thought he was capable of. He needs Alicia help to get something from his ex wife and he will do anything to persuade her to say yes.
"Come," he said, and she could hear it in his voice. That fire. That need. That tornado that spiraled between them, more and more out of control the longer this went on, and more likely to wreck them both with every second.
And it would, she thought. Soon.
Just as he'd warned her.
Caitlin Crews has written a good story which delivers everything you expect from the presents line. It has a tortured, dark and arrogant hero with an unfortunate past. It is clear from early on that Nikolai's childhood experiences have majorly shaped the man he is at the present. Alicia made an unworthy mistake years ago and she changed her whole lifestyle to repent for the same. Her wild past and the mistake she made did put me off in the beginning but I grew to like her because she did try to correct them.
"I think you hide behind all these rules and boundaries, Nikolai." She felt the air in the room go electric, but she couldn't seem to stop herself. "If you tell yourself you're a monster, if you insist upon it and act upon it, you make it true. It's a self-fulfilling prophecy."
Overall Not Just the Boss's Plaything by Caitlin Crews is a good romance with unconventional characters who might be difficult to like but the writing and pulse raising seduction does manage to compensate for the same.
Book Info:

Publisher: Harlequin (November 19, 2013) | Harlequin Presents (Book 3196)
Not Just the Boss's Plaything by Caitlin Crews
Not Just the Boss's Plaything
A very personal performance plan
From the moment Alicia Teller tripped and fell into Nikolai Korovin's arms, her iron-clad control started to slip!
While Alicia's tantalizing curves might drive Nikolai to distraction, business and pleasure are not two things this legendary tycoon has ever mixed…until now.