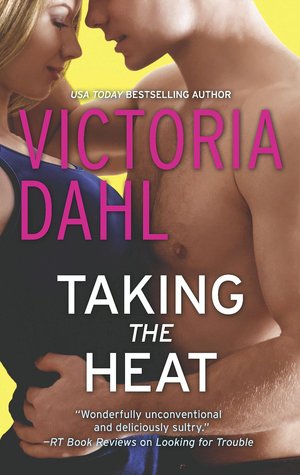 In Taking the Heat (Jackson: Girls' Night Out #3) by Victoria Dahl, Writing an advice column may not have been Veronica Chandler's plan when she dreamed of a writing career, but at least she's back in her hometown of Jackson Hole, Wyoming. The few years she spent trying to live it up in New York City turned out to be a nightmare, not fitting in there at all. Still lacking in her personal life, things look up when Veronica meets sexy new librarian, Gabe MacKenzie. His family ties to NYC scare her, but the sparks between them are undeniable. He even thinks her dorky ways are cute. But when she starts to fall for him after a few short weeks, is she in jeopardy of getting her heart broken?
"That's my flirting technique. Complete awkwardness. Look, it's happening right now. Are you entranced?"
"I kind of am," he said, smiling at her until she smiled back. "If awkwardness is your flirting technique, then you're clearly into me right now."
One perfect year away from NYC is all Gabe MacKenzie is asking for before he puts his career as a librarian aside to concentrate on the family business. Jackson Hole is the place he longs to make his home. It has rock climbing, hiking, camping…and a shy but sexy little writer he can't stop thing about. Gabe can easily see himself falling for Veronica in a big way but knows he needs to come clean about his limited time in town. Just when things are really heating up between them, the truth comes crashing down around him and Gabe has to decide between his family or a chance at love.
"…You're all those things. Gorgeous, cute, sweet, sexy. Leave something for the other guys, Gabe."
He shook his head. "Is this another tactic to get into my pants? Blatant flattery?"
"It is if it's working," she said with a grin.
Things got incredibly steamy in Victoria Dahl's latest romance, Taking the Heat. The attraction between Veronica and Gabe was instant & intense, and kept this reader glued to the pages to see what could possibly happen next to make me blush.
"You're like my own personal fantasy, Gabe MacKenzie."
There are certain authors I can count on to bring the sexy, and Victoria Dahl is at the top of the list. The romance may be explicit in the dialogue and details, but it is always done with a bit of humor and a whole lot of passion, so it never seems gratuitous. I also love that her characters are real: they're flawed, they make mistakes, they struggle in their daily lives like the rest of us. But there is this inner strength that pulls them through and leads them to their HEA. Gotta admire that.
The love scenes between Gabe and Veronica were raw and realistic, just like they were as individuals. It may not have been perfect, as there was some awkwardness and shyness on Veronica's part, but it was perfect for them. And I loved that we got to watch her start to own her feelings and her sensuality. Gabe was an awesome guy who knew just how to boost Veronica's confidence while being honest about how strong their chemistry was together. I thought they both showed a lot of personal growth through the story. I also enjoyed the Dear Veronica stories that became part of the plot as well. One such letter she receives from a teenage boy will be sure to touch your heart while the situation plays out.
A sexy bearded librarian with family issues. An adorkable advice columnist lacking a love life. Throw them together in a breathtaking location such as Jackson Hole, Wyoming, and you have the perfect set-up for romance. Definitely recommended.
Book Info:

 July 28th 2015 | by HQN Books | Jackson: Girls' Night Out #3
Passion this hot can't be faked…
All revved up for bright lights and steamy nights, writer Veronica Chandler chased her dreams to New York City. When she hit a dead end, reality sent her back home to Jackson Hole, Wyoming. Saving her pride and her new gig—writing a relationship advice column!—requires some faking. No one can know the truth about her big-city flop or her nonexistent sex life. But the town's irresistibly rugged librarian is determined to figure her out… and give her hands-on lessons in every wicked thing she wants to know.
Gabe MacKenzie's heart might be in Wyoming, but secretly his future's tied up in his family's Manhattan legacy. Getting down and dirty with Veronica is supposed to give him a few memorable nights—not complicate his plans. But the thing about heat this scorching is there's just no going back… and it might be too hot for either of them to take.