In Tall, Dark and Immortal by Cat Devon, Chicago police detective–and vampire–Alex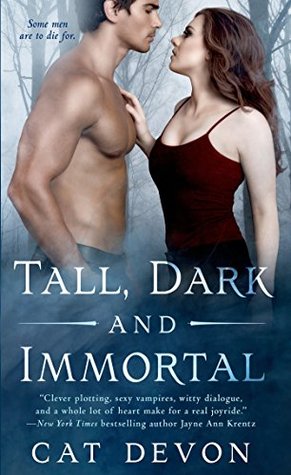 Sanchez knows from the moment he meets Keira Turner that she's trouble. Specifically, trouble to his heart. Because there's no denying the incredible connection he feels for the reporter. But Keira has vampire hunter blood in her family so she's the last person Alex should be attracted to. His hunt for the person robbing blood banks brings them both under attack, with him wondering if he should trust his instincts or his heart.
"We can't keep doing this," she whispered against his mouth.
"Why not?"
"Because it could lead to trouble."
"Trust me, we're already in trouble," he said huskily.
Keira is hot on the trail of story but none of the local police seem to be worried about the robberies. When she's pointed in the direction of detective Sanchez, she hadn't even known vampires existed. Now Keira is in a world where supernatural beings are real and her own family secrets are wrapped up in it. She senses an intense bond with Alex as they combine efforts to find the culprit, but can she trust a vampire? Or is he the only one who can keep her safe?
'Vampires weren't just after her; now they wanted to kill her. And those were the friendly ones. God only knew what the enemy vamps wanted to do to her.'
Tall, Dark and Immortal was every bit as sensual as it sounds. Alex and Keira's forbidden love was written in the stars and given to us in this final Entity installment, written before author Cat Devon tragically passed away.
You know how some books have you swept up in the romance and rooting for the hero and heroine from the beginning? Yeah, that was Keria and Alex's story. The way their instant connection was written, you just felt like their relationship was inevitable…it was meant to be. And that's a pretty wonderful thing in a love story.
I think what I liked most was that it wasn't only about alpha vamp Alex and inquisitive Keira having such intense chemistry. They formed a bond over the course of this novel and each situation they faced only strengthened their feelings. Alex being a vampire and Keira finding out about her vampire hunter heritage created some of the friction and excitement between them. So considering their connection should have been taboo, they made it work remarkably well for themselves.
As far as paranormal 'worlds' go, this one is pretty rock solid. All of the characters we encountered were well-developed and unique, lending their own special spin to the story. And I liked that even though the bad guy wasn't a complete mystery where we got to see scenes from his POV, there were questions as to how and why everything happened as it did. I thought the multiple POVs also helped to keep the pace of the story moving right along so there was a nice flow to it.
Tall, Dark and Immortal can be read as a standalone or as part of the Entity series. Either way, I think paranormal romance fans will have a lot of fun and go away happy after reading about Keira and Alex's crazy journey to their HEA.
Book Info:

Published September 1st 2015 | by St. Martin's Paperbacks | Entity #4
HE'S TAKING A BITE OUT OF CRIME.
Alex Sanchez is more than just an ordinary detective. He's on the prowl–as a vampire. Alex uses his unique gifts to police the mean streets of Chicago like a natural predator. But when he learns that local blood banks are being robbed, he's not sure what rattles him more: the bizarre crime wave or the stunningly beautiful journalist who's reporting it…
SHE'S RISKING HER NECK FOR A STORY.
Keira Turner is dedicated to her job–and determined to uncover the truth. Dangerously, out-of-this-world handsome Detective Sanchez seems oddly fascinated by the crimes–and obsessed with Keira. Alex might not have a clue who's stealing blood but he's sure of one thing: Keira is no mere mortal. She's descended from a long line of vampire hunters. And if they try to solve this case together, he'll have to fight the urge to kiss her…or kill her.