In Taming Her Navy Doc by Amy Ruttan, Erica Griffin is a Navy surgeon and she once saved the life of a soldier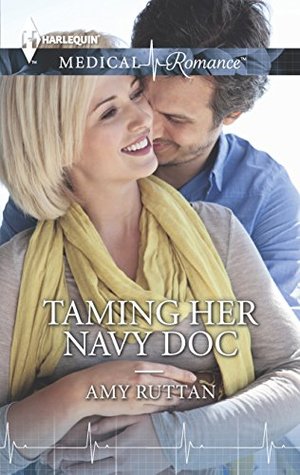 wounded gravely in a secret operation but sadly that operation left the soldier with an amputated leg. She could never know the soldier's name as he was whisked away soon after the operation. Now five years later, the injured navy SEAL turns out to be her new commanding officer and she finally learns his name: Captain Thorne Wilder. He is still gorgeous but totally off limits!
Thorne has been left damaged, brooding and untamable after the loss of his dreams—and beautiful Erica is an unwanted complication! She might be as wary of relationships as he is, but fighting temptation will be the biggest battle of all…
Taming Her Navy Doc by Amy Ruttan was a well written romance with some really amazing medical details and well constructed characters.
Erica is a strong heroine whom I admired very much because of her dedication towards her craft. She had been in a relationship before but it had ended badly leading to disastrous consequences. Thorne was a bitter, tortured hero given what he had gone through in the past. Both the characters were unwilling to have a relationship because of their professional and personal restraints and therefore there was a lot of will they or wont they moments. It was frustrating at times because neither of them was willing to accept their feelings. They do come around but after a lot of resistance and denial. The chemistry between the characters was great and the story setting was interesting and different.
Overall, Taming Her Navy Doc by Amy Ruttan was a different and enjoyable romance.
P.S: The reader might want to thump the characters many times for their stubbornness but I urge you to carry on patiently because in the end it was worth it.
Book Info:

 Published July 1st 2015 | Harlequin Medical Romances |
The one woman to tame him…
Finally the injured navy SEAL who had once been brought to surgeon Erica Griffin in the dead of night has a name: Captain Thorne Wilder—her new commanding officer! Five years later he's just as gorgeous as Erica remembers…but now he's totally off-limits!
Thorne has been left damaged, brooding and untamable after the loss of his dreams—and beautiful Erica is an unwanted complication! She might be as wary of relationships as he is, but fighting temptation will be the biggest battle of all…