In Tattooed as Trouble (Vegas Vixens #3) by J.L. Hammer, Rae is trying to get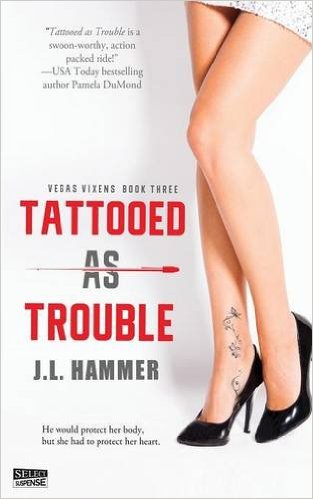 on with her life after the mess it has been for her but disaster and danger strike when she witnesses a murder. Bronson is one of the US Marshall's assigned to her protective duty as she waits to testify, after which she'll be put into the Witness Protection Program. Although this will take her away from her life as she knows it and her brother True, to stay alive Rae knows it is what she'll have to do. Neither Rae or Bronson counted on the attraction that sizzles between them, or possible betrayal that keeps putting Rae at risk. Can Rae and Bronson maintain professional boundaries? Whatever happens will be short term…would it be worth the risk and heart ache? But can Bronson keep Rae safe so they even have the chance for that?
Tattooed as Trouble is an action packed romantic suspense that I really enjoyed and couldn't wait to see what happened next, whether it be the suspense or attraction between Rae and Bronson. Rae is a heroine who I could feel for and hope for. She's trying to do the right thing even as she struggles with inner conflict. I love that she takes the help and protection of the US Marshall's. She's not a typical heroine who thinks she can save herself, and this is one of her strengths. I liked her openness and just who she was! Her strong connection with her brother was heart warming too, even if he does sometimes bring trouble her way. Bronson really struggles to maintain a professional relationship with Rae, but it gets harder and harder. He's not very nice sometimes in an effort to distance her, and his actions at times were hot then cold. He is more closed off than Rae and his background filters through the story slower, but it makes him easier to understand. I did like him and his determination to keep Rae safe. The connection and chemistry between these two is palpable, and at the same time sad knowing Rae will soon disappear into the Witness Protection Program. I couldn't wait to see how that would work, where the two of them would end up and if Rae would ever be safe from who ever is hunting her.
The pace of Tattooed as Trouble is nonstop and flows very well. I liked the dynamics the secondary characters brought to the plot, and I liked that J.L. Hammer kept me guessing right to the end!
As opposites attracting goes, Tattooed as Trouble is a great romantic suspense whose main characters have courage, honor and integrity despite their differences. I'd recommend Tattooed as Trouble to any romantic suspense reader.
Book Info:

Published: February 8th 2016 by Entangled Publishing, LLC
For Raegan "Rae" Storm, the trouble in her life is as permanent as the tattoo stamped on her shoulder. After witnessing a double murder, she becomes the target of a bloodthirsty mafia and enters the Witness Protection Program in exchange for her testimony. With her life on the line, the last thing she expects is to lose her heart to the mysterious, handsome Quinn Bronson, the U.S. Marshal protecting her.
Driven by honor and his commitment to his job, Bronson rescues Rae from threats time and time again, but fighting off hit men is easier than ignoring his attraction for the one woman he should never desire: the witness. As danger presses in on Bronson and Rae, neither knows whom they can trust, and their forbidden love could be what destroys them.