Teach Me by Caitlin Crews is a steamy BDSM themed story with a sibling's best friend romance.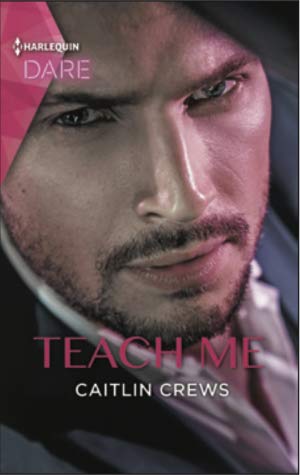 Erika Vanderburg has spent the last two years trying to figure out a way to get into the infamous Berlin Walfreiheit sex club, where she knows her brother Conrad's best friend Dorian Alexander does scenes as a Dom. Their last personal encounter at a family charity ball had left her with the feeling that she was missing something – something that only he could provide. When she watches him perform a scene with a submissive she gets the feeling she might be in over her head. But Dorian has seen her, and it's too late to turn back now. With the wheels in motion, Dorian show Erika just how good things could be between them. But can it lead to something more than just a few sex filled nights together?
Whew! The author has ratcheted up the steam factor in this one! If you've ever wanted to experience the inside of a sex club (albeit a fictional one), this will certainly fulfill that curiosity. For Erika, who considers herself a knowledgeable party girl, it's still an eye-opening experience and seeing Dorian in full Dom mode pushes all of her buttons. What follows is some personal, private time between them where Erika realizes that what she wants most is Dorian's approval. It's not all one sided though as Dorian is quick to understand that Erika's reaction and response to him is unlike any other woman he's been with – a somewhat scary realization.
Dorian isn't one to hold back information, and just like he's up front with Erika about what he expects and how not to disappoint him, he's also quick to tell his best friend about Erika's appearance at the club so that Conrad isn't blindsided by the news that he and Erika are sleeping together. Conrad isn't thrilled but grudgingly takes Dorian at his word that he'll take care of Erika (something he's had a hard time with as she's played the rebellious younger sister for more years than he can count).
From there, Dorian just has to convince Erika that he wants more than just her submission – he wants her for a lifetime if she'll have him. Besides the über steamy sex scenes (that include spanking and toys), both Dorian and Erika spend a lot of time in their heads in personal monologues that did become a bit repetitive. But overall, if you're into BDSM romances this is a prime example of one with great play scenes, responsible aftercare and a sexy romance with two very compatible people. I'm definitely interested in reading Conrad's story next!
Book Info:

Publication: Feb 01, 2020 | Harlequin Romance | Filthy Rich Billionaires #1
"Here, now and until I say otherwise…the only thing you have to worry about is doing exactly what I tell you to do."
Socialite Erika Vanderberg has been planning for this night for months. Years. All so she can finally gain entrance to Berlin's most exclusive sex club. Erika is here for one person: Dorian Alexander, her brother's best friend and her secret childhood crush. Only, now her childish crush has been replaced by something hungry, raw and oh-so-wickedly adult. And the moment Erika sees Dorian—his dark eyes intent and focused, that hard body—everything comes crashing into place.
Yes, she's submissive. And yes, she desperately wants to surrender to Dorian over and over again. Oh yes, please. After one taste, there is already a dark hunger between them…one that threatens to unleash who Erika really is.