In Divided Interests (Southern Bride #3) by Kelly Elliott, Paige Miller left Johnson City, Texas in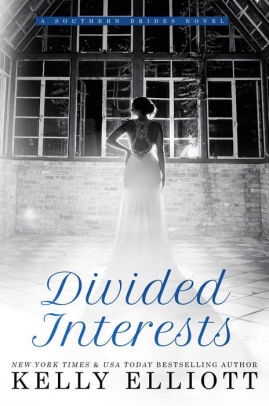 the dust about a decade ago when the love of her life, Lucas Foster, broke her heart into pieces. Try as she might Paige has to admit she's still not over her high school sweetheart. And what's worse is that she's just inherited his grandfather's house in their hometown–well, half of the house. The other half of the grand old home and property is now owned by, you guessed it, Lucas. Forced to find a compromise without giving in to temptation, Paige launches an all out war on the handsome cowboy. But it doesn't take long to find herself head over heels for him all over again. This time, though, she can only hope neither of them will be walking away brokenhearted.
He walked closer and looked down into my eyes. The way his hazel eyes were sparking told me I was fixin' to be in some serious trouble.
"Congratulations. You got your wish. I'm not selling the place. Instead, I moved in. We're housemates."
Lucas has made some pretty boneheaded moves in his life but letting his first (and only) love Paige go was his biggest mistake. But being forced into seeing her after so many years apart only to find out she's moved into his grandfather's house and has started making plans for it? Lucas can't let that slide without having a bit of fun. What starts off as toying with Paige while he tries to decide if he wants to keep the house turns into a whole lot more. Because even though he knows it's too fast, Lucas wants to make Paige his again. Being in the house together just seems…right. And with the treasure hunt his deceased grandfather sends them on, he figures out that there's more pulling them together than they could've imagined.
'I had a hard time catching my breath. I did everything in my damn power to act like seeing her wasn't playing havoc on my body and my heart.'
Delightfully fun and oh so sexy, Divided Interests was everything I love about small town romance–with the added bonus of it also being a second chance at love *and* set in Texas. What more could a reader ask for?
'Nothing else in this world mattered but being home. And home wasn't a house. Or a job. It was him.
Lucas was and would forever be…home.'
I am so in love with Kelly Elliott's writing style and with the awesome cast she created for Divided Interests. I swear I had a smile on my face just about the entire time I was reading thanks to the comical predicaments Paige and Lucas got into and their passionate natures. (That's a nice way of saying they had some lively verbal sparring going on…lol) From the touch of animosity at the beginning after years apart to the undeniable attraction that never faded, they were so frickin' adorable together it was ridiculous. But perfect.
I'm a sucker for a second chance romance and I have to say that Lucas and Paige's relationship was wonderful. He put his foot in his mouth more than once and definitely made mistakes, but it was clear to see what a stand up guy Lucas turned into. Sexy, smart, the quintessential cowboy, he was pretty irresistible. And Paige was the best. Intelligent in her own right, she knew what she wanted and wouldn't settle for less, but she still made her feelings for Lucas clear. I loved their playfulness and how they couldn't take things slow. They tried. But when the attraction and the love is there, why fight it, right?
It has to be mentioned that the secondary characters more than held their own in this book. Paige and Lucas's friends and family were hysterical, as were the nosy locals who somehow seemed to know what was happening in Lucas and Paige's lives before *they* even knew what was going on. Oh, and there was also a thread of mystery involving Lucas's family history, something his grandfather set him and Paige on the path of to track down information that would hopefully bring them together. That was was really interesting–and complicated–but it added something extra to the plot.
Divided Interests was the perfect blend of down home sassy humor and tender but steamy romance. With a swoony ending that will have readers rejoicing and cheering our lovebirds on wholeheartedly, author Kelly Elliott wowed me right through to the final page.
Book Info:

Publication: Published February 4th 2020 | Kelly Elliott | Southern Bride #3
One house. Two owners.
Paige Miller has inherited a house in the small town of Johnson City, Texas. She's elated to be back and has already started making plans to remodel the one-hundred-year-old home exactly how she remembered it as a little girl. There's only one problem.
Lucas.
The moment Lucas Foster sees the old home sitting on fifty acres of prime land, he has one thing on his mind. Sell it. However, there is one obstacle literally standing in the way of his plan.
Paige.
Seeing Paige standing in the doorway of his grandfather's old home instantly brought back the feelings he once had for her. The dream of one day marrying her and raising a family in this very house.
Neither is willing to budge on what they want, and soon they find themselves living together in the old home.
The house uncovers many old and hidden secrets, and Paige quickly discovers that it wasn't a mistake they both inherited the house. It was fate.