In Tell Me You Want Me by Willow Winters, Adrian Bradford is quite familiar with being enemy number one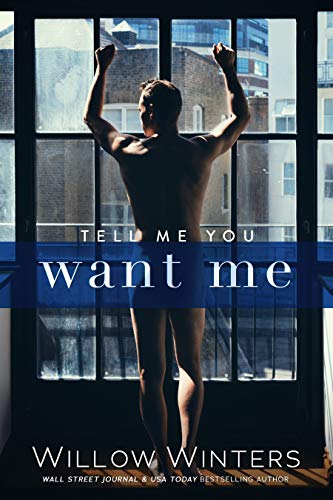 when he steps into a newly acquired business and starts shaking things up. CEO, businessman, and if you ask some people–the devil incarnate, he rules with facts and a passion for bettering every business he buys. But never has Adrian mixed work with pleasure. That changes when he is attracted at first sight to lovely Suzette Parks. She's a smart businesswoman who takes no guff from the likes of a man like Adrian. And he loves every minute of their verbal debates. It's when he begins to lose focus on his job as his thoughts continuously stray to Suzette that he starts to wonder if he's gotten in over his head for the first time in his life.
'Suzette Parks has a very dirty mouth and I want to do very dirty things to it.'
Suzette knows Adrian Bradford spells trouble for her job and for the company she's devoted several years to. But what started off as her giving a piece of her mind to the handsome CEO ends up with her potentially losing a piece of her heart to him instead. Because for every tense-filled moment she spends during her workday, wondering when the shoe will drop and she'll lose her job, Suzette spends passion-fueled evenings with Adrian. Being lost to her feelings is something she swore she'd never do again. But maybe with the right person, it's not such a bad thing after all.
'I suppose there's always an exception to every rule and Adrian Bradford is just that: exempt from every boundary I've spent years defining.'
Willow Winters will definitely have readers fanning their faces and reaching for a cold beverage with Tell Me You Want Me, where insta-lust turned into a full-on romance in this fast-moving, sensual story.
"If any of them have a problem with the two of us, tell them I want you more than anything. More than this company. More than profit, more than any fucking thing. I want you."
Okay, first of all, let's take a moment to appreciate that cover. Not only is it super sexy, but it's pretty much ripped right out of a scene (minus the heroine) from the book itself. Secondly, Tell Me You Want Me starts off with Adrian and Suzette hot for each other right away, not wasting any time before Winters throws in some memorable erotic love scenes. In other words, if you're not a huge fan of insta-lust or insta-love, this story might be a tough sell for you.
Suzette and Adrian had an interesting relationship. Like with a lot of Winters' couples, there was some friction (read: animosity) in addition to their smoking hot attraction, which led to some fiery conversations and even steamier bedroom–or, ahem, office–action. I had to applaud that Suzette was determined to remain true to herself through everything she and Adrian had to sort out. She was tough and savvy but had a realistic touch of vulnerability. And both of them brought emotional baggage into their romance. Even tough-as-nails businessman Adrian had his own personal demons to fight. So thanks to adding in their tangled backgrounds, Winters included just enough emotional depth to keep this quick story from feeling too overrun by Suzette and Adrian's whirlwind courtship.
Tell Me You Want Me had a solid plot and the complex characters I expect from a book by Willow Winters. If you're in the mood to be swept away by all things NYC and with a hot romance complicated by real life issues, look no further.
QOTD: Are you a fan of insta-love/insta-lust stories?
Book Info:

Publication: Published August 24th, 2021 | Willow Winters |
I didn't get to where I am by being nice.
I'm the boss, the CEO, the owner of whatever I want. Right now, that includes every person in this building of the company I just bought.
I stop at nothing once I've decided I'm taking something.
And then she showed up… full of spitfire just for me, the man she's decided is her worst enemy.
Like I said, I stop at nothing once I've decided I'm taking something. This pretty little thing just moved to the top of my "must acquire" list.