The Name Curse by Brooke Burroughs: Wow! This was not your normal run-of-the-mill rom-com. It was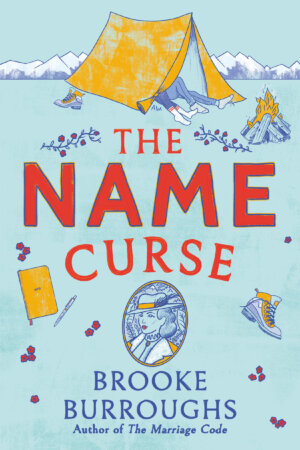 hilarious but also memorable; one of those books that you will not forget the storyline in a month or so. It captivated me from the beginning, and I could not put the book down until I finished. The book was well written, paced perfectly, and was "real-life". It was a slow-burn romance between a couple who was irritated by each other from the time they met but they slowly realized they both were going through a hard time and could relate to each other.
Bernie Purcell was named after her Great-Aunt Bernice who was known by the family for her adventuress spirit. Her mom was always telling her that as a child Bernie was full of spirit so she thought Bernie would be more like her Great-Aunt Bernice. It always left Bernie feeling like she was a disappointment to her mother, but Bernie liked her life as it was. She liked living in her childhood home in Portland, her predictable job, and her simple life. Her boss, best friend, and mother were all encouraging her to go somewhere on vacation. Her mother surprises her by purchasing Bernie a hiking trip to Denali. After some confusion with her name Bernie is assigned Matthew as a tentmate.
Matthew Hildebrandt was a screenwriter who went on an adventure every summer to clear his mind and come up with new ideas for the sitcoms he writes. This year he is taking a hiking trip to Denali and also contemplating the idea of giving his deadbeat father one of his kidneys. When he is assigned Bernie as a tentmate and realizes her lack of experience with camping, he knew he would gather plenty of comedic material to use for a sitcom. The core of the sitcom would be about two hiking guides stuck with an enthusiastic group of accident-prone hikers.
I was very surprised to learn this was only the second novel the author has written. It was extremely entertaining but still had so much emotional depth to it. The main characters were both buried under a lot of family expectations and needed to reassess their lives. All the characters were charming, and it was fun getting to know them. I must give kudos to Bernie for her willingness to step into the unknown of hiking and camping with so much eagerness. She was very brave going on vacation by herself and doing something so out of her comfort zone. Matthew started the trip as grumpy and cross, but his character along with his funny random thoughts grew on me as the book progressed. He still showed kindness and understanding to Bernie when she needed help. He started out thinking of her only as a future character in his sitcom, but she became so much more.
This was a fun book and I highly recommend it if you are looking for a book that will make you laugh and end with a smile on your face. I look forward to reading more from Brook Burroughs in the future.
Book Info:

Publication: August 31, 2021 | Montlake |
In this flirty wilderness adventure by the author of The Marriage Code, two hikers who drive each other crazy discover they might have a lot to learn from one another about navigating life, love, and living up to family expectations.
Ever since her father died, Bernie's life has been stagnant. When concerned friends and family suggest she join a hike through Alaska to gain new perspective, Bernie reluctantly agrees to go, even though she's never been the adventurous type, unlike her namesake, Great-Aunt Bernice.
Matthew is a struggling screenwriter who needs a week off the grid to gain some inspiration for a new project and to process the reappearance of his absent father.
When the two meet at the trailhead, it's annoyance at first sight. He's dismayed to discover that he'll have to share a tent with Bernie, who doesn't know the first thing about camping, while she finds he's a little too into "roughing it" to be a reasonable human being. But as they're forced to hike through the wilderness together, their relationship becomes a surprising source of empathy and inspiration…and maybe other feelings too. Can the two adversaries find the path to breaking the curse of family expectations—and each other?