Temptation at His Door by Joss Wood  is a sexy romance between a widower and his temporary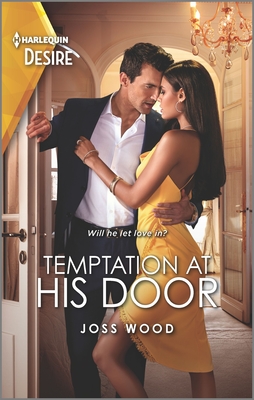 nanny and is the second story in her Murphy International series.
Ronan Murphy is an art auctioneer who works with his siblings in dealings with international clients and art pieces. His job takes him around the world, and since the death of his beloved wife while birthing their second son three years earlier, he's relied on his brothers, and nannies to care for his two young boys. But now his most recent nanny is gone and he's having trouble finding a replacement.
When Joa Jones returns to Boston to help her foster sister Keely with their adopted mother Isabel's estate, she's determined to stay away from the au pair business after falling for one too many unavailable men. Ronan's family is taking care of some of the pieces of their estate and Keely thinks Joa would be a perfect temporary nanny for his family. Ronan being in the lurch and needing someone to care for his children, even if only temporarily, is a temptation for Joa but she's determined to keep him at arm's length. Of course that doesn't last long and the burning attraction between them leads to some passionate encounters. Joa's not willing to settle for second place anymore, but is Ronan ready to finally move forward with someone new?
I always enjoy reading this author and having read the Love in Boston series (in which Tana Murphy gets her HEA in Second Chance Temptation), I'm also enjoying this spinoff with the Murphy brothers. Ronan is an empathetic figure, a man still grieving his wife and not having found anyone yet to tempt him to look beyond the present into the future, until Joa comes along. She's the first woman he's been attracted to since his wife died, and her compassion and empathy with his boys makes her an ideal candidate for being more than just his nanny.
Joa is understandably reluctant to open herself up too much to Ronan, having been burned in the past by men whom she'd thought might be interested in her as more than just their children's caregivers. And Ronan's devotion to his dead wife is evident in the multiple pictures of her around his home. Joa's young life changed for the better when she was brought from a teen shelter into Isabel's wealthy world, and she finds herself wanting to give back by becoming involved in the charity work that Isabel cared about. I enjoyed seeing her character grow over the course of the story as she becomes more confident in her abilities and realizes that heading the charitable foundation is a new direction worth taking.
Ronan and Joa definitely have chemistry and share several sexy and passionate love scenes, even as they try to convince themselves that it's an affair with a time limit that they can end when they want. But Joa soon realizes she'll need to distance herself from Ronan before she gets any more deeply involved, something that makes Ronan realize it's time to think about moving forward, and wanting to do that with Joa. They get a well deserved happy ending and I look forward to reading more of the series!
Book Info:

Publication: Apr 01, 2020 | Harlequin Desire | Murphy International #2
Will he let love in?
"We both know that was a one-off."
But stopping is out of the question…
Wealthy art auctioneer Ronan Murphy needs a nanny for his two little boys now. Gorgeous au pair Joa Jones would be perfect, but there's a catch. He and Joa also have impossible-to-ignore chemistry. One night exploring that chemistry can't hurt…right? Wrong. One night with Joa only leaves Ronan craving more. But more is the one thing he can't have…