In You Deserve Each Other by Sarah Hogle, When Naomi Westfield accepted Nicholas Rose's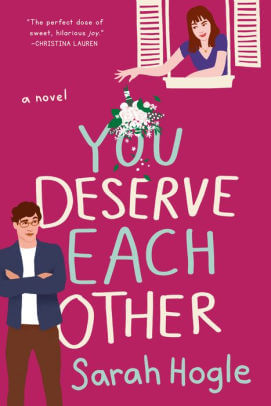 marriage proposal, she was on cloud nine. She thinks. At this point, she truly can't remember why she agreed to get married. Between Nicholas trundling along, oblivious to his clingy mother's demands on Naomi and how she's taken over their wedding plans, to him treating her like she's a pleasant acquaintance, Naomi is ready to run for the hills. But no way will she be held responsible for putting an end to the relationship. Especially if it means paying for the whole blasted wedding, no details of which she chose.
"Are you malfunctioning?" he asks, mildly entertained.
He's twelve steps ahead of me. He's twelve steps above. Behind. Everywhere. I don't know where to turn and I don't know what his objective is. He's right, I'm malfunctioning. My circuit board is smoking.
Naomi's plan to keep at Nicholas, making him so aggravated that he'll toss in the towel works okay at first. Little digs about his mom. Harmless pranks and flip attitude leave him wondering what's going on. It's when Nicholas begins to clue in to Naomi's plan that it all goes south. Then it's war. But just when things are looking like they just might come to a mutual cease-fire, Naomi and Nicholas both realize why it all went wrong. And that they still have a sizzling connection that won't be denied. Can the unthinkable really happen? Can seeing their real selves, a more evolved version of who they fell in love with, have them choosing each other all over again?
'I lean in and kiss him again… It's electrifying, how illicit this feels to me. I'm not the same Naomi and he's not the same Nicholas. It's like I'm cheating on my fiancé.'
A smartly written fresh new take on romantic comedy–and what it means to compromise–You Deserve Each Other was a hilariously heartfelt debut novel by Sarah Hogle.
'My engagement to Nicholas Rose is a game of chicken.'
You Deserve Each Other had a lot going for it right out of the gate. It's by a debut author, which I love discovering new authors to stalk, er–I mean follow. It was enemies to lovers. Or, I suppose, lovers to enemies to lovers. And it featured two smart, well-meaning main characters who had the right chemistry but who were (rather severely) lacking in communication skills. But what a fun time! All the angst, the bickering, the pranks, the one-upping each other. It did the trick, because it led the way for Naomi and Nicholas to fall in love all over again. *swoon*
Nicholas and Naomi's whirlwind courtship was almost a cautionary tale in a way, where we saw what could happen when a couple never opens up and truly lets each other in. Everything was on the surface between them. I did love how Hogle basically created a romance in reverse. We saw a snippet of Naomi (this is told strictly from her POV) at the beginning of their relationship and then we were thrown in when everything started to crumble, not quite two years later. Finding out how it all went wrong and why both Naomi and Nicholas treated each other poorly was woven in throughout the book. One major factor? His overbearing mother. Oh. My. Word. She will be a character you love to hate, guaranteed. And without giving too much away, I can tell you that she does get knocked down a peg or two–or three!–by the end.
You Deserve Each Other was a romance where the main characters were so adorably clueless and perfect for each other that I simply couldn't help cheer them on. If you're looking for a book filled with laughter, quirkiness, and love, this will be a great choice.
Book Info:

Publication: Published April 7th 2020 | G.P. Putnam's Sons |
Naomi Westfield has the perfect fiancé: Nicholas Rose holds doors open for her, remembers her restaurant orders, and comes from the kind of upstanding society family any bride would love to be a part of. They never fight. They're preparing for their lavish wedding that's three months away. And she is miserably and utterly sick of him.
Naomi wants out, but there's a catch: whoever ends the engagement will have to foot the nonrefundable wedding bill. When Naomi discovers that Nicholas, too, has been feigning contentment, the two of them go head-to-head in a battle of pranks, sabotage, and all-out emotional warfare.
But with the countdown looming to the wedding that may or may not come to pass, Naomi finds her resolve slipping. Because now that they have nothing to lose, they're finally being themselves–and having fun with the last person they expect: each other.
When your nemesis also happens to be your fiancé, happily ever after becomes a lot more complicated in this wickedly funny, lovers-to-enemies-to-lovers romantic comedy debut.