In Tempted by Mr. Off-Limits (Nurses in the City #2) by Amy Andrews, Hamish Gibson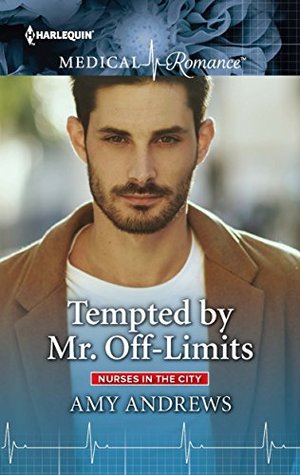 is off-limits for Lola Fraser since he's her best friend's brother. However, when they begin living together and deal with the sort of medical situations they handle day in and day out, things are bound to get tricky. So, why not use each other for a little stress relief? Yet, the more time these two spend together, the more Hamish finds he can't keep ignoring the fact that he's falling in love with her. Will Hamish and Lola get the happy ever after they both deserve or will Lola break his heart because she loves her independence too much?
"Of course she'd agree!" Grace said immediately. "Lola can pick good looking out of a Sydney New Year's Eve crowd blindfolded."
Hamish grinned at his sister. "I'll have to remember that this New Year."=
Something in Hamish's voice must have pinged on his sister's radar. Apparently she wasn't tipsy enough to dull that sucker. Her eyes narrowed as her gaze zeroed in on him. "No Hamish."
"What?" Hamish spread his hands in an innocent gesture.
"You and Lola would not be good for each other."
Having really enjoyed these two in the previous book, which featured the hero's sister getting her happy ever after and who just happens to be the heroine's best friend, I couldn't wait to read more about Lola and Hamish because Lola isn't interested in relationships. She's too independent, loves adventure and isn't looking to settle down, especially in a small town like she grew up where everyone knows everyone else's business. Really, she wants to be more like her aunt – a total free spirit and commitment free. Will Hamish make her see that being with the one you love is worth fighting for?
As for dialogue, it was entertaining due to the main characters back stories and their growing relationship, yet, was intense due to the medical emergencies they handle that tugged at my heartstrings because some patients are in a will-they-live-or-will-they-die situation and knowing the outcome had me reading quickly, determined to discover how things would end. Will their patients live? Moreover, the heroine did frustrate me at times because it's palpable she has strong feelings for Hamish, but is willing to deny herself the chance of forever. Why is she so determined to not be in a relationship? While the hero, he's confident, charming, hard-working, has a close relationship with his family and I liked how determined he was to win the heroine over, even though – at times – winning her over seems hopeless. Really, she's so stubborn.
"I love you, Hamish. I'm sorry it took me this long to see it. That I was so blind to it, too wedded to this idea of being a gypsy, too frightened to deviate from the path I'd set myself all those years ago, to see what my heart already knew."
Overall, Ms. Andrews has delivered a really good read in this book where the heroine takes a long time to realize how in love she is with the hero, but her realizing that fact is well worth the wait; the romance was nicely-detailed and had me loving these two together because Hamish is good for Lola; and the ending had me loving the heroine's words to the hero about the depth of her love for him and how much she wants the pair to be together. However, it was the epilogue that wrapped this story up nicely, as Hamish and Lola are so happy together. I would recommend Tempted by Mr. Off-Limits by Amy Andrews, if you enjoy the best friend's brother trope, the friends to lovers trope or books by authors Sue Mackay, Annie O'Neil, Amy Ruttan and Charlotte Hawkes.

Book Info:
Publication: October 1st, 2018 |

Harlequin Medical | Nurses in the City #2
How to handle a powerful attraction…
Get it out of your system quickly!
In this Nurses in the City story, Lola Fraser knows better than to fall for her best friend's brother, paramedic Hamish Gibson. Living together while he's training could get awkward—fast! But as they work together on a heartrending case, they can't resist the temptation to take their minds off work. Surely one night will be enough…until they discover it isn't!