In Texas Dad by Roz Denny Fox, Mack Bennerman has done his best to keep the Bannerman Ranch going since the death of his father, while looking after his daughter. Now his daughter Zoey wants him to find a wife.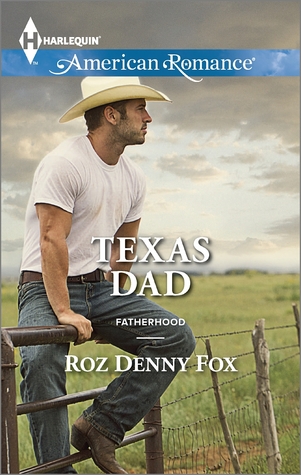 Zoey is about to be a teenager and her father and the housekeeper who have raised her have no idea what teenagers nowadays should look like. Girls at school make fun of her and she no longer wants to look like a cowboy, but how can she do that without hurting the people she loves most in her life? Well her best friend has the perfect idea, nominating her father in a contest to be one of the men featured as man of the month for One Woman Magazine, which will give him a check for his charity of choice and a date with the woman presenting the check.
JJ Walker is a photojournalist for One Woman Magazine, she is used to all the different assignments she is sent to. But from the very beginning she has not agreed to the man of the month idea. To make matters worst, she is tired from her last assignment and running late to the meeting as it is, then walks into the meeting without really concentrating until she sees the picture of the one man she thought she would never see again, Mack Bannerman, her college love and ex-fiancé.
When JJ is assigned to go to Turkey Creek Ranch for the initial interview and to take the photos of the new Mr. August the only thing she can think of is how to get out of it. She begins by trying to convince them to choose someone else, and then by asking about the other photographers, unfortunately none other are available and she has to go to Texas.
JJ expects to be in Texas for only a day or two, but fate has other plans for her. Her meeting with Zoey is postponed fort he next morning, and then she realizes that things are not what they seem. For it looks like Mack had no idea that his daughter had nominated him and that he had won the contest. But if he decides to not sign the contract and waiver then she can leave and forget about him once again.
Mack has never forgotten Jill, he loved her so much and hoped to make a family with her only to have her leave him without any explanation. Only to have her mother ship his ring back. Now that she is in front of him he is angry at her, but he can see that he bothers her too, and he considers signing the contract if only to get under her skin more.
What neither of them expected is that Zoey would start matchmaking or that they would still feel so strongly for each other after so many years. But Jill has already left him once, and Mack doesn't believe that she will stick around any longer this time.
Mack and Jill will start getting closer once again and falling for each other. But when a horrible fire starts and heads towards his home when he is out on the ranger moving the herd, Jill does her best to try to save his home only to have him arrive and berate her for risking his family. Hurting her when she was thinking about saving what he most loved. And worst yet, Mack has a hard time saying sorry which will only complicate their strained relationship as it is.
Only Mack doesn't really know the reason why Jill left him, and because of a huge misunderstanding Jill believes that Mack never really loved her. And to make matters worst he doesn't trust anyone with a secret he has been keeping for many years, which will only complicate their relationship more. But they will both have to learn to trust and open up to each other about what they feel and think if they are to have a chance at their own HEA.
If you want a sweet, heartbreaking second chance romance read, don't miss Texas Dad by Roz Denny Fox.
Book Info:

April 1st 2014 by Harlequin American Romance Series #1495
A Picture-Perfect Husband?
Mack Bannerman is many things—a rancher, a Texan, a father…a widower. His twelve-year-old daughter, Zoey, wants him to remarry, so she enters Mack in a magazine contest, hoping to find a wife for him—and a mother for her.
Photojournalist JJ Walker, formerly from Texas, is sent to Turkey Creek Ranch to take photos of him for the feature. But JJ and Mack have a past together. One full of mistakes and misunderstandings that left them both with broken hearts. When Zoey catches on that they used to be involved she'll stop at nothing to make them fall for each other again. Never underestimate a girl who's determined to play cupid!