Texas Outlaws: Billy (Texas Outlaws #2) by Kimberly Raye, is the second book about one of the three Chisholm brothers in the small town of Lost Gun, Texas. This is Billy's story, the youngest brother. Billy has one goal, to win the Lost Gun Rodeo. His brother Jesse is the current bull rider champion, but he is retiring from the circuit in order to settle down.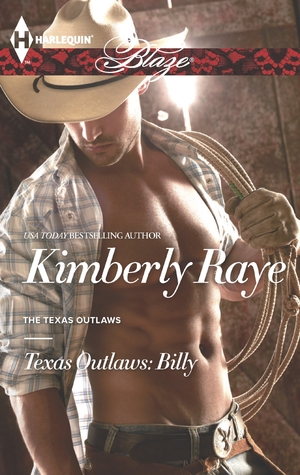 Now it is Billy's turn to shine and hopefully qualify for the state rodeo championship. Billy is constantly training and has no time for a serious relationship. He is a good looking cowboy that deeply enjoys the company of women, but only for a night or two.
Lovely Sabrina Collins sticks out like a sore thumb in Lost Gun. Although she grew up in a small town full of cowboys, she is now an aspiring entrepreneur from Los Angeles, bringing her business plan to life. Her dating website, FindMeACowboy.com, needs eligible, single cowboys, and what better place to find them then at one of the most popular rodeos in Texas. Sabrina meets Billy in the local hangout, where they experience an instant chemistry. Both lonely for companionship and seeking temporary fulfillment, turn a one night stand into something much more.
Naturally, with each hot and steamy sexual encounter, Billy and Sabrina begin to develop feelings for one another. Billy is the first one to realize that his time with Sabrina is more than a fling and from that point on, he does everything he can to keep her in his life. Even though Sabrina's work is completed and she claims she detests small towns and cowboys, she extends her stay in Lost Gun to do a little senior citizen matchmaking. Hmm, maybe she is a country girl after all and maybe she is in love.
This is a contemporary western romance with a ton of spice. The characters are likable, but I found the plot to be a little bland for my tastes. The secondary storyline about Billy's father being a well known outlaw is interesting, but overtime, I found it to be repetitive. Lastly, I loved the comical banter between Sabrina and a couple of the senior citizens.
Book Info:

Publication: January 21st 2014 by Harlequin Blaze (Book 784) | The Texas Outlaws #2
Wanted: one sexy cowboy!
Sabrina Collins needs bona fide cowboys for her new dating website—fast. Fortunately, Lost Gun hosts one of the biggest and oldest rodeos in Texas, and there's a whole corral of hot men in leather chaps to choose from. Fortunately for Sabrina, wranglers aren't her type. That is, until Mr. Sex-in-a-Stetson asks her to dance and her vow to stay away from cowboys starts to weaken…
Rodeo rider Billy Chisholm doesn't need help dating. He does just fine with the ladies, and he's not interested in anything long-term. The moment he sees Sabrina, however, Billy's libido busts out of the gate. So they strike a deal—one night of hot, intense sex. Just one. But once the hunger is let loose, there's no telling just how wild the ride will get!