Daring to Trust the Boss by Susan Meier: Olivia Prentiss was finally starting to prove to the people back home in Starlight, Kentucky that she was more than the liar and opportunist her would be attacker labeled her. She's landed a job in New York City as an accountant for Inferno, and she's intend on keeping her head down and moving her way up. She's disappointed, then to find that instead of beginning her position as an accountant, she is told that she will be subbing for the owner of Inferno's assistant. Tucker Engle is rumored to be difficult to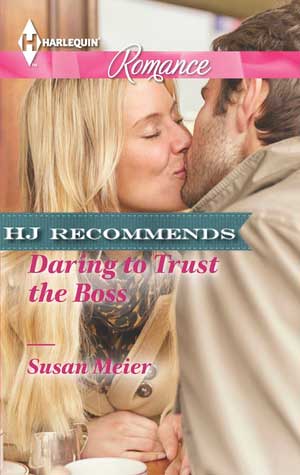 work with; in fact, none of the other employees would volunteer to work with their demanding boss. But Vivi is determined to use this as an opportunity to learn from a highly successful businessman who has had to work for his success.
"She had to work directly with a guy called the Grim Reaper by his staff? She gulped. 'An accountant stands in for a personal assistant?' 'You won't be a personal assistant…Or even an administrative assistant. You'll be an assistant…A assistant who has to be able to keep up.' His lush mouth thinned. 'Do you have a problem with that?'
Former foster kid Tucker Engle has made a success of his life, but he's never felt like he belonged to a real family. He doesn't let it bother him, but a visit from Olivia's overprotective family makes him feel his isolation. The feeling isn't helped when a business trip to Italy forces Tucker and Olivia into even closer proximity. But the closer he grows to the vibrant Olivia, the more Tucker realizes how different they are.
"They were wrong for each other. Too different. Nothing would come out of them kissing. Especially not a relationship. And without a relationship, a kiss was–unwelcome? Unwarranted? A smart executive wouldn't open himself to the trouble kissing an employee would bring."
Can a man who's never had a family and doesn't know what love is ever be with a woman who's always been surrounded by a loving family? Can Olivia get over a difficult experience in her past and learn to trust the feelings she has for Tucker?
Daring to Trust the Boss is a great book about two damaged people from two different backgrounds trying to make sense of the undeniable attraction between them. Olivia is plucky, a young woman determined to move forward and conquer her life after a traumatic experience, hampered by her loving and overprotective family. Tucker is a former foster child who has learned through his experience not to depend on anyone. Both of these characters have issues of trust to overcome that do nothing to dull the spark between them. Susan Meier has written one of those books you want to throw across the room in the best possible way. The misunderstandings between Olivia and Tucker made me groan aloud in frustration, but rang true to who the characters were and how their minds would work. The situations that Tucker and Olivia find themselves in not only move the plot along but expose hidden layers of their personalities and dysfunction. Daring to Trust the Boss has the right amount of conflict and emotional charge to make the happily ever after satisfying.
While there were a lot of things I liked about this book, I thought the revelation of their feelings for one another could have been a bit longer. The reader has gone through so much with these two, and I wanted a little more in this scene. The epilogue was nice, and I appreciated seeing how things turn out for them, but I would have liked more "meat" to how they come together.
I would recommend Daring to Trust the Boss to anyone looking for a sweet romance featuring two characters on opposites sides of the spectrum who have endured some of life's hard knocks and still manage to find each other…and love.
Book Info:

Published February 4th 2014 by Harlequin Romance (Book 4411)
The magic of the Mediterranean…
When accountant Olivia Prentiss joins Tucker Engle's company, she's unceremoniously demoted—to stand in as his PA! However, Tucker's not in for an easy ride. Olivia's worked hard to get where she is now, and refuses to bow to her gorgeous boss's commands—however fearsome his reputation.
But soon Olivia begins to see there is far more to her boss than meets the eye. And on a business trip to Italy, she sees straight through Tucker's hard and proud exterior to a man with a far more vulnerable edge….