Texas Rose Forever by Katie Graykowski: CanDee is ready for a fresh start after the latest in a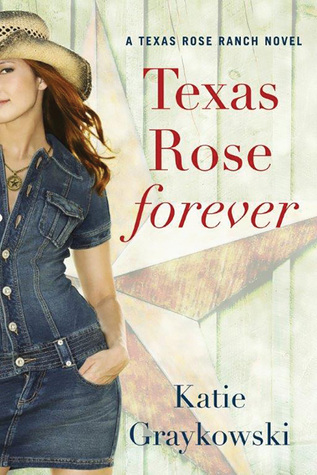 long string of exes uses and betrays her. While she's not thrilled to write another family history, it'll pay the bills until she can write her next book. Cinco is the oldest son and he loves the family ranch. He's buried himself in work ever since divorcing his no-good, cheating ex-wife. Their first meeting doesn't go so well, as Cinco mistakes her for a stripper sent by his brothers as a birthday gift.
"Wow, you just insist on digging that hold a little deeper." She shouldn't enjoy his discomfort, but she did.
"I'm so sorry. That sounded so much better in my head." His face was glow-in-the-dark red.
"I'm just messing with you." She whispered close to his ear. "You have a nice ass." She smacked him lightly on it. "Now we're even. I'm going to the buffet."
Cinco has been different ever since his divorce, but CanDee immediately brings out another side to him. They have an easy rapport and bond over their mutual love of history. Both are wary of getting involved in another relationship, but they can't ignore their chemistry.
"Because for once, I'm with a good guy. Well, apart from your hatred of Double Stuf Oreos and the fact that you mistook me for a stripper, you're a good guy." She sucked on his earlobe.
"I thought we were over the whole stripper thing."
Before they know it, their relationship has become much more important to both of them than they had anticipated. CanDee's time at the ranch is going by pretty quickly and she has to face some difficult decisions about Cinco, the family history, and their relationship.
Texas Rose Forever is fun and entertaining romance that will keep you laughing. Katie Graykowski provided great characters, witty banter, and two characters who deserved to find happiness. Ms. Graykowski created a delightful relationship between CanDee and Lefty that will keep you laughing and wondering what they'll do next. Fans of Susan Mallery and Brenda Novak will enjoy Texas Rose Forever.
Book Info:

Publication: March 15th 2016 | Montlake Romance | Texas Rose Ranch #1
Everything's bigger in Texas, and that goes double at the Texas Rose Ranch, home to the Rose family through five generations of toil, sweat, and scandal. From the moment CanDee McCain is hired to write a history of the Roses' empire, she's bowled over by tall, sexy Cinco Rose. True, the man initially mistakes her for a stripper, but he certainly puts the man in manly. For the first time since her cheating ex left, stealing her novel-in-progress in the process, CanDee is ready to have a little fun.
No woman has ever made Cinco feel both so at ease and so turned on. Since his divorce, he's preferred a saddle and solitude to risking his heart again. Yet something draws him to the fast-talking, leggy redhead. CanDee's not just sweet; she's smart and brave too. But her research is uncovering long-buried secrets that could jeopardize everything the Roses prize most—and destroy a love that's just begun to bloom.