That Cowboy of Mine by Donna Grant finds rancher Dillion Young dealing with strange happenings on the ranch she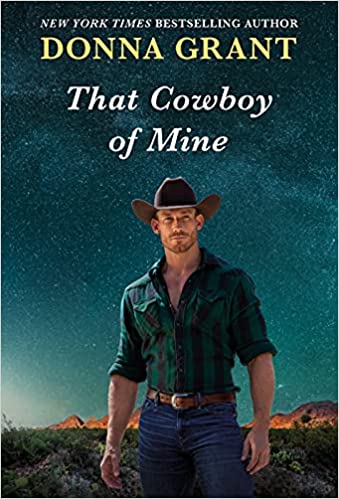 inherited from her aunt. When she finds her prized horse missing, and Cal Bennett passed out on her land, she suspects he's part of the problem. When someone takes a shot at her and Cal saves her life, she finds herself putting her suspicions to the side and welcoming him on her ranch as a bodyguard.
Cal woke up drunk on Dillion's ranch with no idea how he ended up there from the bar, which was miles away. It becomes clear that someone is trying to get their hands on Dillion's ranch, and he's determined to get to the bottom of it. To make it more believable, Dillion and Cal agree to pretend to be lovers in the hopes of drawing the culprit or culprits out. Neither expected for the sparks to fly between them and for what started out to be pretend to turn into something real.
I'll start by saying that I enjoyed the mystery surrounding the reasons people wanted the land. That being said, it's never a mystery to readers (although it is to Cal and Dillion), who was responsible for most of the happenings, although there is one unexpected twist thrown in towards the end. If you're looking for a book where you have to guess who the villains are, you're going to be disappointed. I did enjoy getting to also see things from the villains' side as well though, as the book features scenes on what was going on at the ranch, as well as what was going on with the villains.
I liked Dillion right up to the point she lets her past cloud her judgement about Cal. Having been burnt by a man in the past, she rushes to assumptions about him without taking the time to talk to him about what happened first. She just assumes the worst and treats Cal terribly. I thought her reaction was a bit overkill and left me feeling badly for Cal, who had done nothing but try to help her since he arrived.
While this wasn't my favorite book that I've read by this author, it was still an enjoyable read. If you enjoy stories featuring strong women and cowboys, mixed with some suspense, this may be a book for you.
Book Info: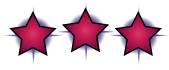 Publication: April 26, 2022 | St. Martin's Paperbacks |
Dillon Young is proud that she inherited her aunt's ranch. The problem: someone is trying to run her off and is willing to do whatever it takes. Strange, dangerous things keep happening. Dillion suspects her no-good neighbor and fellow wealthy rancher Hank Stephens. Never a man to get his hands dirty, he sends others to get the job done. So, when the irresistible Cal Bennett is found passed out drunk on her property, Dillion is on high alert. Until someone takes a shot at her and Cal springs to her rescue. When the hard-bodied, no-nonsense-talking cowboy points out that she may need some help, Dillion is inclined to reluctantly agree.
Waking up on a stranger's property with a shotgun in his face is not Cal Bennett's idea of a good time. Never mind that the woman on the other end of the barrel is one of the most fiercely beautiful women he has ever seen. Things get more interesting when he finds himself shielding her from flying bullets. It's clear that this smart, savvy woman could use a hand and he is all too happy to lend any part of his body she requires. His proposal: pose as lovers until they find out who is after her ranch. As the danger rises and secrets are revealed, the passion explodes between them. There is no turning back.