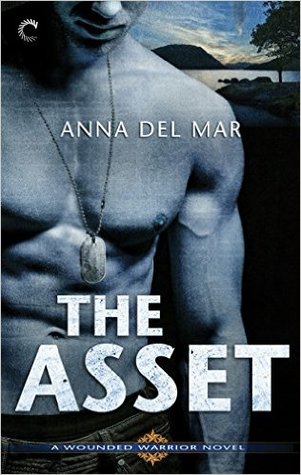 The Asset by Anna del Mar will take our heroine on a dark, emotional rollercoaster in order to get her happily ever after…but she will get it! This is the debut novel for the Wounded Warrior series and I for one, can't wait for the next book in the series. This author has captured my attention with her well-written words, strong characters, and vivid storyline.
From the very beginning, you will become enthralled with the story. It starts with Ash coming to see about a room to rent for him and his dog, only instead of being greeted with a smile, he's greeted with a shotgun. Lia is hiding and is on her guard at all times, but when she sees Ash wounded and seeking shelter, her sympathy kicks in and knows she can't let him go, regardless of her fears.
Lia is strong, full of compassion, and a real fighter. We know something bad happened to Lia but we don't get details until a little more than half way of the story is told. When you do get to that part, you better strap in because it's one heck of a ride.
Even though this book is dark and suspenseful there are some funny moments between our main characters that add to the appeal of the story. I really enjoyed how slow they took their relationship because it gave both characters time enough to heal. Ash immediately knows Lia is suffering and doesn't push her for more than what she can give. He is also very patient and doesn't pressure Lia into telling her story.
"I have the patience to stalk my target and the perseverance to stick with it for however long is necessary to accomplish the mission."
When Lia and Ash finally do connect sexually, it's nothing short of explosive. Their passion really heats up the pages.
If you have trigger warnings that deal with physical, mental and sexual abuse, beware that this story does deal with that, but if you can get passed that or if it doesn't bother you, The Asset is definitely an enjoyable read.
Book Info:

 February 22nd, 2016 | Carina Press | Wounded Warrior #1
Ash Hunter knows what it is to run. A SEAL gravely injured in Afghanistan, he's gone AWOL from the military hospital. Physically and mentally scarred, he returns home to his grandmother's isolated cottage—and finds a beautiful, haunted stranger inside.
Like recognizes like.
Lia Stewart's in hiding from the cartel she barely escaped alive, holed up in this small Rocky Mountain town. Surviving, but only just. Helping the wounded warrior on her doorstep is the right thing to do…it's loving him that might get them both killed.
Soon, Ash realizes he's not the only one tormented by the past. Pushing the limits of his broken body, testing the boundaries of her shattered soul, he'll protect Lia until his last breath.