The Austen Playbook by Lucy Parker is the latest story in her highly entertaining London Celebrities series,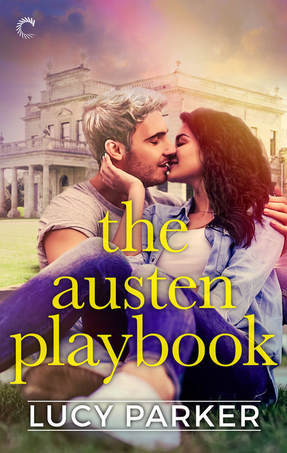 a set of romantic comedies featuring stars of screen and stage and the men and women involved in supporting the industry.
Freddy Carlton is no fan of theater critic James 'Griff' Ford-Griffin and the feeling is mutual. But Freddy's reasons for disliking Griff come partly from his disturbingly insightful analysis of her stage work and the realization that he's been able to capture a truth that no one else has – that she'd much rather spend her stage time on madcap musical follies that make people laugh than serious literary works. It's a particularly challenging time for Freddy with her famous playwright and actress grandmother's seminal work about to go into casting, a role for which her manager father expects her to audition, at the same time as a work she'd much rather be in is up for grabs.
But first, Freddy has to get through her current assignment which sounded too fun to pass up even if it would be extra challenging. The Austen Playbook is going to be a live action, audience directed type of 'choose your own Austen adventure' in which the actors, all playing Jane Austen characters, must memorize several variations of scenes to be played out depending on the viewers' choices. It's all going to take place in a theater built by Griff's grandfather (for Freddy's grandmother, during a tempestuous love affair) on Griff's family estate. The last thing Griff wants is a bunch of theater types roaming the property but his brother Charlie arranged it, and they need the money so he'll grin and bear it. Well, bear it anyway.
Though Freddy and Griff have only met once in person (a memorable event for Freddy having saved Griff from a flying bottle of alcohol even after overhearing him lambasting her acting skills), something about the setting and the shared family history strikes a chord and a surprising spark of attraction. Their preconceived notions of each other soon give way to a comfortable familiarity and a secret sexy affair. But when they get caught up in solving an old mystery, will the fallout ruin the good thing they've started?
This is a purely delightful read! Even the blurb made me laugh. Enemies to lovers is one of my favorite tropes so I had high expectations for this story and it definitely delivered. Lucy Parker creates three dimensional characters with quirks and flaws and likable traits that make you feel invested in them and their search for an understanding partner and a happy ending.
The story has three main plot lines that start to merge as it progresses. There's the opposites attract romance between grumpy (for legitimate reasons) Griff and exuberant lighthearted Freddy. There's the reality show vibe of the cast of the Austen Playbook, with the actors and actresses involved having different motivations for being there besides the money. And then there's the mystery that starts to unfold soon after Freddy arrives at Griff's family estate, one that they both have a hand in uncovering. I'll admit that I didn't suspect where it was leading, so that came as a very interesting surprise when it was unveiled and one with some possibly serious consequences for Griff and Freddy's families.
And speaking of families, that's another focus of this story. Griff and his brother Charlie are also opposites (Charlie and Freddy get along from their first meeting, kindred spirits and all that) with Griff being the one everyone turns to when they're in trouble. Griff's parents' are also at the estate but they are more interesting in their artistic flights of fancy that suck up every available dollar than keeping their home afloat, leaving Griff to be the savior time and time again. Parent issues are familiar to Freddy, whose father has been her stage manager from an early age after the death of her mother, and when his own acting career was cut short. He pushes Freddy more and more into roles she doesn't want and she obliges, feeling like she owes him. It's Griff who makes her see that her misery is apparent to anyone really watching her on the stage (and he's definitely been watching) and that she needs to start taking charge of her own destiny if she wants to be happy.
Freddy takes Griff's advice, making choices that will put her on a collision course with her father and his plans. Her sister Sabrina is also a forceful presence, a woman who has felt the lack of attention from their father due to his interest in Freddy. A television host, she's involved in the live broadcast of the show (which is quite the production) and there is a good setup for what I hope will be her story coming soon. Freddy and Griff solve their mystery and get their happy ending in a wholly entertaining, laugh out loud, shed a few tears, romance. I'll be eagerly awaiting the next in this series!

Book Info:

Publication: Apr 22, 2019 | Carina Press | London Celebrities #4
Freddy Carlton knows she should be focusing on her lines for The Austen Playbook, a live-action TV event where viewers choose the outcome of each scene, but her concentration's been blown. The palatial estate housing the endeavor is now run by the rude (brilliant) critic who's consistently slammed her performances of late. James "Griff" Ford-Griffin has a penchant for sarcasm, a majestic nose and all the sensitivity of a sledgehammer.
She can't take her eyes off him.
Griff can hardly focus with a contagious joy fairy flitting about near him, especially when Freddy looks at him like that. His only concern right now should be on shutting down his younger brother's well-intentioned (disastrous) schemes—or at the very least on the production (not this one) that might save his family home from the banks.
Instead all he can think of is soft skin and vibrant curls.
As he's reluctantly dragged into her quest to rediscover her passion for the stage and Freddy is drawn into his research on a legendary theater star, the adage about appearances being deceiving proves abundantly true. It's the unlikely start of something enormous…but a single revelation about the past could derail it all.