The Baby Merger by Yvonne Lindsay: One night, one night was all it was ever supposed to be.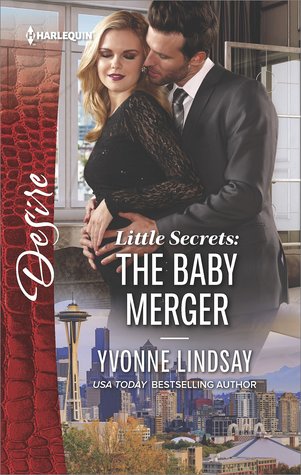 Sally Harrison was stressed out. Something was going on but she wasn't sure what it was. She also was starting to have the pangs of loneliness hit her. She was shy though and not sure of herself. She was very aware though that some things were just too far out of reach to even dream about until one night.
Kirk Tanner knew he shouldn't. She could end up being the one person he sought, if nothing else he should really tell her who he was and why he was there. Though he wanted one night, just one night.
It's all okay until one night is working together, is accusations, is being tied to one another for a life time. With everything standing in their way could this one night ever turn into a lifetime of happiness?
This is not your typical Lindsay novel I'm sorry to say. Usually she is a go to author whose books will be picked up solely by having her name on the cover. In this one the plot had such potential but the characters are hard to relate to and even harder to like. The subplot is good and has a twisted ending that does surprise you though. The romance part though is rough and almost painful.

Book Info:

Publication: September 5th 2017 | Harlequin Desire | Little Secrets #3
One white lie leads to one little secret…
The truth is, Sally Harrison's one-night stand with the breathtaking business tycoon Kirk Tanner was the most mind-blowing sex of her life. But after discovering that Kirk's her new boss, she feels used. And finding out she's pregnant has upended her life.
The intensity of Kirk's attraction to Sally is off the charts. But after concealing his identity that night, Sally's unwilling to ever believe him again. Besides, she resents that he's been put in charge of her father's company instead of her. But when Sally's suspended for corporate espionage, can Kirk prove her innocence…and his love?